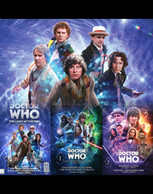 This Weekend: Special Offers on Doctor Who Limited Editions!
Across this whole UK Bank Holiday, you can make the most of offers on three of our Limited Edition Doctor Who titles, with prices starting from just £20 for huge epic multi-Doctor celebrations and novel adaptations!
See the News item here for more information.
Read more