For The Love Of StoriesBig Finish produce fantastic full-cast audio dramas for CD and download.
ATA Girl - BBC Audio Drama Awards finalist
10 January 2019
ATA Girl is a finalist in the 2019 BBC Audio Drama Awards, and we're delighted the first series in our Big Finish Originals is being recognised. To celebrate we have special offers on this and our other Big Finish Originals released to date.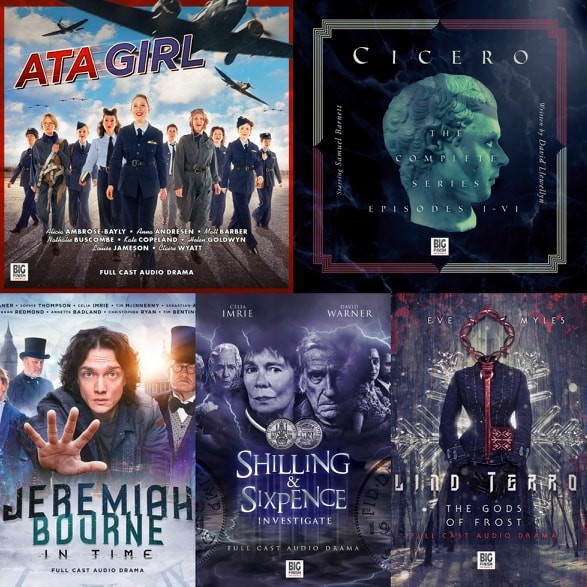 We were delighted to discover this week that ATA Girl has been nominated for the BBC Audio Drama Awards 2019 in the Best Podcast or Online Audio Drama category.
The series is a dramatization based on the lives of the Air Transport Auxiliary, the brave female pilots who helped move planes across the country. They were also the first women in the country to earn equal pay, alongside their male counterparts.
To celebrate, before midnight tonight you can pick up each of our 2018 Big Finish Originals releases at their pre-order price.
ATA Girl is a drama inspired by the real women of the Air Transport Auxiliary during WWII. From the UK and beyond, a hundred and sixty eight female pilots, alongside the men, transported a vast range of aircraft from the factories to the squadrons, sometimes flying in perilous weather conditions and without radios or instrument instruction.
One in ten ATA pilots died.
Told as a series of reminiscences from (fictitious) former pilot Amelia Curtis, the stories aim to honour these unsung heroes of WWII, whose shared passion for flying contributed so much to the war effort and who represented one of the first examples of 'equality in the work place' for women in the UK.
ATA Girl, the full first series is now available at just £17 on download.
Also available at its pre-order price, you can get the terrifying horror series starring fellow nominee Eve Myles, Blind Terror – The Gods of Frost.
Following the death of her husband, Kathryn Ellis becomes the new housekeeper at Hodder Hall, keen to embark on a bright new future… only, her past won't let her go just yet, and the ghosts that stalk the village threaten to cut her future short.
Comprising of six half-hour episodes and produced by the team behind The Confessions of Dorian Gray, Blind Terror is a series that shouldn't be missed.
Also for a classic murder-mystery treat with a stellar cast including David Warner and Celia Imrie, why not try Shilling & Sixpence Investigate?
February 1939.
Desmund Shilling arrives in Morlington Hill, deep in the heart of Cornwall, having been given the post of Head of English at Morlington School for Girls by the hearty headmistress Lavinia Sixpence.
Not far away, at Boothby Hall, Inspector Cribbage and Sergeant Salt are investigating the horrific murder of Lord Pluck – who is to blame? His grieving widow, Lady Penelope? His impetuous son, Viscount Robert? The no-nonsense cook or the handsome young school caretaker Joseph?
Miss Sixpence and Mr Shilling mount their own investigation, and very soon, horrible truths come to light…
Based on Nigel Fairs's murder mystery serial that has been running for over 21 years (with new episodes performed every month throughout the UK), Shilling & Sixpence Investigate takes place in a sometimes quirky, sometimes dark world where nobody is quite whom they seem.
Or for another series with a fantastic cast, try Jeremiah Bourne in Time, from the pen of The Young Ones star Nigel Planer. This series stars Sebastian Arnesto as Jeremiah, and guest stars Tim McInnerny, Celia Imrie, Nigel Planer, Christopher Ryan, Tim Bentinck and Annette Badland amongst the cast.
Jeremiah Bourne is a boy with a remarkable gift. He can travel in time. Not by using a time machine, or stepping through a dimensional portal. It just happens to him, as though by accident. One minute he's in the present day, the next, he's a hundred years in the past, standing in the London of 1910.
Cicero, the second release in the Big Finish Originals range, is a full series following on from the pilot released in February 2017. Starring Samuel Barnett, the brothers Cicero return for several more legal cases in Ancient Rome…
Rome, 80BC. An age of bloody civil war and dictatorship is at an end.
In its turbulent aftermath, an ambitious young lawyer, Marcus Tullius Cicero, is beginning to make a name for himself. But does he have what it takes, and can this new era of peace and prosperity truly last?
The Roman world is on the brink of revolution. The age of Caesar is drawing near. And Cicero will have to do everything he can to survive the storm.
Make sure you get each of these series at their pre-order price, available until 23:59 UK time tonight (10th January 2019).
Or you can save by buying all five together INCLUDING pre-ordering the two Big Finish Originals coming this year, Transference and The Human Frontier, in a bundle at just £120. Don't forget, if you're an Audible user the first five series can all be found there, available at a credit each.
We'll have more information on Transference coming soon, so stay tuned. Due to this year being one of the biggest years ever for Big Finish, there are some minor delays on the two remaining Big Finish Originals, with Transference now set for release in August 2019 and The Human Frontier to be released in November 2019.
Executive Producer Nicholas Briggs explains further: "Jason Haigh-Ellery rightly felt that we needed to give our Big Finish Originals productions more space to breathe between releases. Although the range has done really nicely so far, we thought it wise to give potential listeners more time to find them and for any publicity and marketing to gain a bit more traction."