For The Love Of StoriesBig Finish produce fantastic full-cast audio dramas for CD and download.
Audies win for Big Finish
5 March 2019
Congratulations to the team behind The Martian Invasion of Earth for their win at the Audie Awards! Winner of Best Audio Drama of 2018, we're celebrating its success with a 40% off our entire HG Wells range!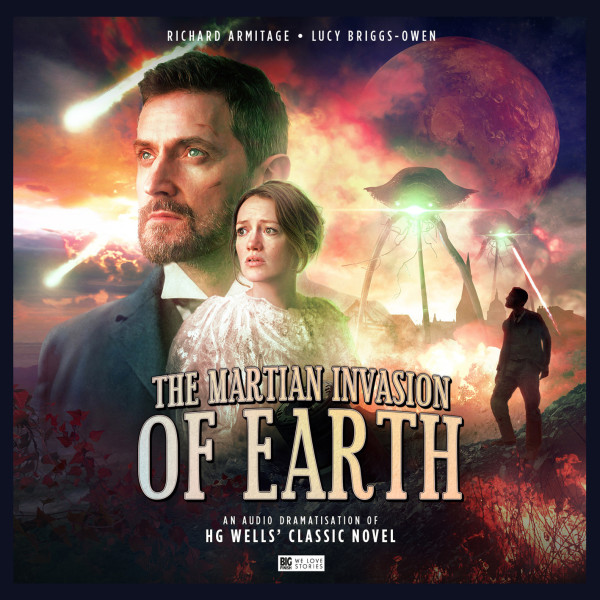 Originally written in 1897, The War of the Worlds is one of the first alien invasion stories in the history of literature and has since become the defining classic of the genre.
Previous culture-defining adaptations include the broadcast by Orson Welles in 1938 (which terrified listeners and led to outrage as people believed it was a real news bulletin of an alien invasion!). Many will recognise the 1978 musical album adaptation of the story by Jeff Wayne, and there was a film adaptation directed by Steven Spielberg starring Tom Cruise in 2005. Where better to have a new audio adaptation after over 100 years since its creation, than at Big Finish?
You can grab The Martian Invasion of Earth at 40% off, just £8.99 on CD and £7.79 on download. This special offer price will expire at midday (12pm) UK time, Friday 8th March, so don't miss out.
'No one would have believed in the last years of the nineteenth century that this world was being watched keenly and closely by intelligences greater than man's…'
A curiosity falls to Earth on Horsell Common, and a nightmare begins. England is laid waste by huge fighting machines, armed with devastating heat rays. Humanity brings its own weapons to bear upon the invaders, but can they be any match?
Trapped in a war of two worlds, one couple battles to survive. Herbert and Amy bear witness to… The Martian Invasion of Earth.
This dramatisation, adapted by Nicholas Briggs, sees Richard Armitage playing Herbert, the lead character and narrator of this epic story. He is joined by Lucy Briggs-Owen playing his wife Amy.
Plus, you can save on the other releases in the range as well. In February 2017, the late Sir John Hurt starred in Big Finish's audio production of HG Wells' The Invisible Man. You can listen to an exclusive free extract here. Other popular HG Wells' releases include The Shape of Things to Come starring Nicola Walker and Sam Troughton, and The Time Machine starring Ben Miles.
You can get each of our HG Wells adaptations at just £8.99 on CD or £7.79 on download, until midday (12pm) UK time Friday 8th March 2019.
Or you can save by getting the entire HG Wells collection in a bundle at £53 on CD (plus additional for shipping) or £46 on download.