For The Love Of StoriesBig Finish produce fantastic full-cast audio dramas for CD and download.
Chocks away for ATA Girl 2!
8 March 2020
Two new stories inspired by the real-life female pilots of the Air Transport Auxiliary during World War II, written and produced by Louise Jameson and Helen Goldwyn, are released today.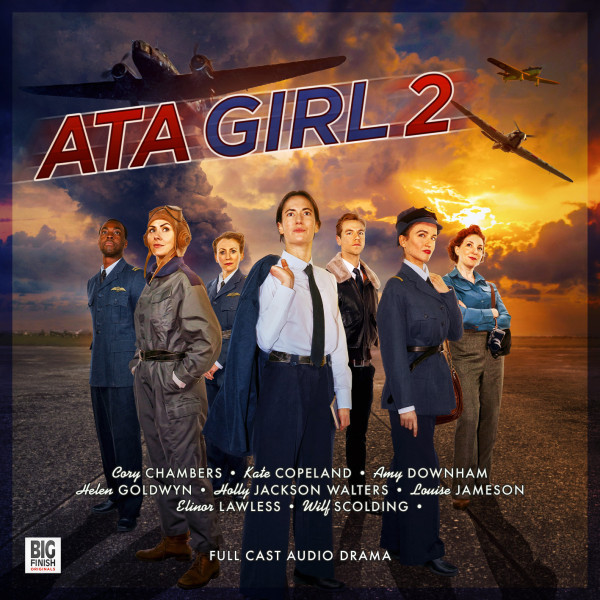 Featuring some beloved characters from series one and re-uniting the original core creative team, ATA Girl 2 sets out to show another side to life in the corps and to pay tribute to the men and women who lost their lives at Kenley Airfield on "The Hardest Day", 18 August 1940.
Encompassing one of the most dramatic air-raids of the war and examining the personal battles that continue for the women despite impending peace, the pilots face challenges that push them to their limits.
From the UK and beyond, 168 pilots, alongside the men, transported a vast range of aircraft from the factories to the squadrons, sometimes flying in perilous weather conditions and without radios or instrument instruction.
One in ten ATA pilots died.
ATA Girl 2 is now available to download and own for just £9.99 from Big Finish.
Following on from the first quartet of stories, the female pilots of the Air Transport Auxiliary find themselves caught up in one of the most historic air raids of WWII, alongside a more personal drama that ends in tragedy.
Later, despite the end of the war being in sight, battles closer to home continue; the disappearance of a pilot remains unresolved and it seems that a terrible crime may go unpunished.
ATA Girl 2 contains two exciting hour-long episodes:
The Hardest Day by Helen Goldwyn
18th August 1940. What begins as a routine ferry assignment to Kenley Airfield becomes one of the most dramatic days of WWII, when a vast German raid descends upon the base. Led by commander Pauline Gower, the pilots (some familiar, some new) are tasked with saving as many aircraft as they can and a race against time – and the enemy – ensues.

Back at base, ambitious First Officer Henry Lloyd and war photographer, Faith, help survivors, but during the mayhem, an horrific crime is perpetrated... and it seems the culprit will never be brought to justice.
Au Revoir by Louise Jameson
1944-45. Paris has been liberated and the allies are gaining ground at last. The ATA women see in the new year with the hope of peace in the sight, but there are still old mysteries to be solved and painful losses to endure. Will they ever find out what happened to one of their missing pilots and can hard-nosed pilot Felicity repay the dangerous debt she owes?
Meanwhile, a friendship between newly-engaged Rhiannon and black Canadian pilot, Gabriel, creates waves of disapproval, but Rhiannon is in more danger than anyone realises. Her war has only just begun.
Writer and producer Helen Goldwyn added: "Working with Louise again was one of the biggest pleasures of this whole project. We've been friends a long time, and collaborators in many different ways over the years, but this was actually the first time we were writers on the same production. As a writing team we couldn't be more perfectly suited, as I always over-write everything and put too much detail in, and Louise has the most wonderful talent for conveying layers of information in the most succinct, economical way."
Writer, producer and director, Louise Jameson said: "It's a bit like Tenko, it's women in adversity and how they cope in those circumstances. There are some rat-a-tat-tat battles going on, especially in the first episode, but it's mainly to do with the relationships – who loves who, who's helping who, where the survivors are, where the ones that give up are – telling the stories of these amazing women who didn't have their songs sung at the time."
ATA Girl 2 is now available to download to own from the Big Finish website for just £9.99. Big Finish listeners can also download ATA Girl series 1 & 2 together in a bundle priced at just £26.
Until 23:59 (UK time) on Tuesday 10 March, the very first episode of ATA Girl series 1, entitled Up in the Air, will be available to download for free.
Plus, for a very limited time, all the Big Finish Originals series are available to download and own for just £120. That bundle includes all of the following full-cast audio drama series: ATA Girl 1, Cicero Series 1, Jeremiah Bourne in Time, Shilling and Sixpence Investigate, Blind Terror, Transference, and The Human Frontier (released May 2020).
The Big Finish Originals series cast includes well-known names from stage and screen, including Celia Imrie, Nigel Planer, Eve Myles, David Warner, Alex Kingston, Warren Brown, Samuel Barnett, Sophie Thompson, and Genevieve Gaunt.