For The Love Of StoriesBig Finish produce fantastic full-cast audio dramas for CD and download.
Colin Baker narrates Bayban's Blake's 7 origin story
23 February 2022
Discover the upbringing of notorious criminal Bayban the Butcher in a brand-new audiobook from The Worlds of Blake's 7, released today by Big Finish Productions.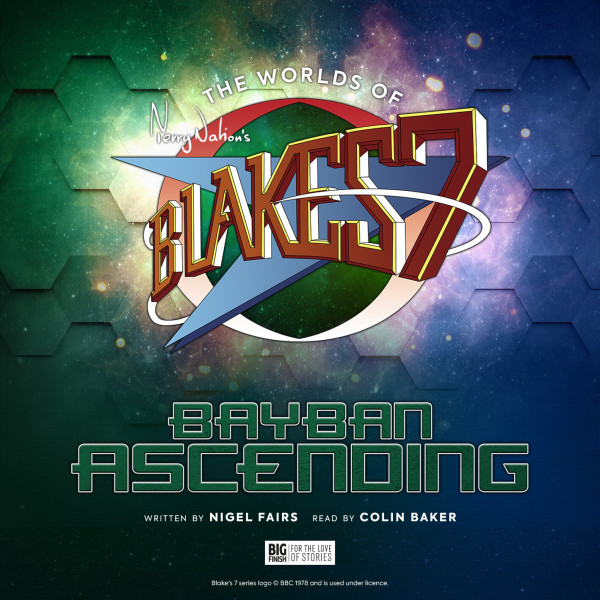 Before starring as the Sixth Doctor in Doctor Who, Colin Baker left a lasting impression on Blake's 7 fans as Bayban in the 1980 episode, City at the Edge of the World. In December 2021, he made a triumphant return in three full-cast audio adventures alongside Vila (Michael Keating), Travis (Stephen Greif) and Jenna (Sally Knyvette).
Now Baker returns to narrate Bayban Ascending, a full-length audiobook written by Nigel Fairs, which delves into the villain's sordid past and reveals what led him to a life of crime.
The Worlds of Blake's 7 – Bayban Ascending is available to own as a digital download (at £9.99), exclusively here.
My mother… Oh yes, I had a mother. Wonderful woman. Truly evil person. She had a saying. "Babe," she used to say – she called me Babe. "Babe," she used to say. "Treat every hour as though it's your last."
Son is a diligent menial worker on the planet Calross. He has no idea who his father is. He lives with his mother by the Federation Factory where he works. He has two friends: a computer geek called Vann and a manual worker called Olag Gan. Son is having a secret relationship with Vel, Gan's woman. She tells him that she is able to channel her psychic gift through a broken piece of necklace that she stole from an ancient burial site on one of the outer worlds.
Holding the broken necklace, Son has a vision that he will achieve greatness. When it comes true, he decides to find its missing parts hiring a grizzled old pilot called Bayban the Butcher to help him...
Colin Baker said: "Back in the early 1980s, Bayban leapt off the page invitingly. He was over the top and knew what he wanted and damn well got it! It was a lovely character to play.
"This is a genius beginning to the whole Bayban story. The journey has been written so brilliantly by Nigel Fairs – we hear the transmogrification of a young, careful, trouble-avoiding, low-level worker to become the scourge of the universe.
"I hope I've done justice to the wide variety of roles that Nigel offered me to play – the relationship between Bayban and his wonderful, vile, hideous, clever, devious, and lunatic mother is the greatest I've ever had to delineate in any story – and I hope that Bayban's life is chronicled even further in the future. I find him fascinating!"
The Worlds of Blake's 7 – Bayban Ascending is available to own for just £9.99 as a digital download, exclusively from the Big Finish website.
Big Finish listeners can save money by purchasing Bayban Ascending and the full-cast audio adventure box set, Bayban the Butcher, together in a bundle for just £28 (CD + tie-in downloads) or £25 (downloads only).
Alternatively, a complete bundle offering all the full-cast audio dramas and tie-in audiobooks for The Clone Masters, Bayban the Butcher & The Terra Nostra is also available for just £80 (CD + tie-in downloads) or £70 (downloads only).
Big Finish is currently operating a digital-first release schedule. The mail-out of collector's edition CDs may be delayed due to factors beyond our control, but all purchases of this release unlock a digital copy that can be immediately downloaded or played on the Big Finish app from the release date.