We love StoriesBig Finish produce great full-cast audio drama for CD and download, featuring many popular television fantasy series.
Double trouble in The Clone Masters
4 June 2021
Join Jenna and Cally on a mysterious mission in the third box set from The Worlds of Blake's 7.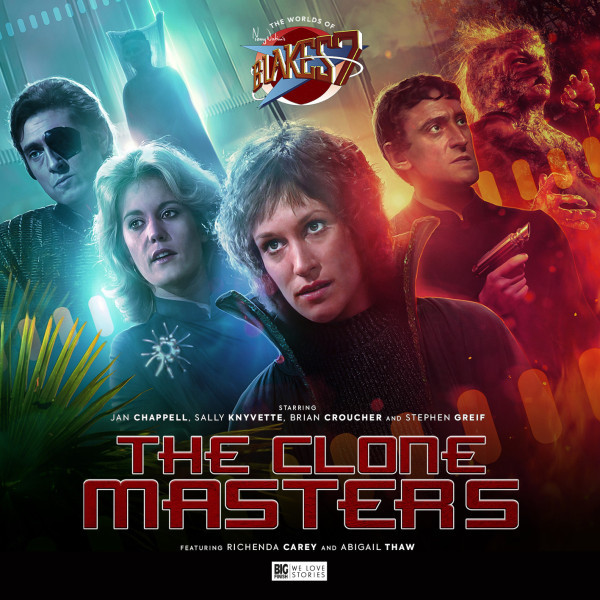 Due for release in September 2021, The Clone Masters revisits original TV script editor Chris Boucher's enigmatic race from the 1979 episode, Weapon.
This trio of full cast audio adventures features Sally Knyvette and Jan Chappell returning as Jenna and Cally, as they work together on a mission full of danger and intrigue.
Guest cast across the box set include Abigail Thaw (Endeavour) as psychostrategist newcomer Hinton and Richenda Carey (Monarch of the Glen) as Clone Master Shar, while Stephen Greif and Brian Croucher both return as Travis... at the same time?
The Worlds of Blake's 7 – The Clone Masters is available to pre-order as a collector's edition CD box set (at £19.99) or digital download (at £16.99), exclusively from the Big Finish website here.
The dark history of the Clone Masters holds many mysteries. Cally and Jenna discover some are lost in time, long before the Federation - while other secrets were buried by the Clone Masters themselves before they retreated to their home world.
Gatekeepers or conspirators, pragmatists or prophets, defenders or destroyers... At the height of their powers, how will the Clone Masters respond when Travis plans to weaponise them?
The three epic episodes, all written by Tim Foley, are as follows:
Separation
An untrustworthy old colleague tempts Jenna away from the Liberator to a secluded forest world, pursuing a mystery that involves Cally's family.
Will Jenna and Cally realise the true danger they face from the Clone Masters before night draws in?
The Rule of Life
When Space Commander Travis makes fresh demands of the Clone Masters, he is surprised by two familiar figures.
One is an Auron outcast. The other is the man he once was – and could be again.
The Conclave
The Queen of the Clone Masters is dead, and the search for her successor draws guests from across the galaxy.
Looking for something else on their visit are Cally and Travis. Between them, they could unwittingly tear down the Clone Masters' world forever.
This box set is also released alongside The Rule of Death, a full-length audiobook written by Trevor Baxendale.
Producer David Richardson said: "The arrival of the Clone Masters was a turning point in the TV run of Blake's 7. I remember the impact they made on me as a 15-year-old. It seemed as though all cards were off the table – that this series I loved could now tell any kind of story. The harder edges were being softened as the series took its first steps into very imaginative science fantasy.
"I was always disappointed that the producers never brought the Clone Masters back, but now I'm producing Blake's 7 on audio and I can! So here is the kind of Clone Masters sequel I always wanted to watch. It's taken 42 years – but what's that to a people with such power?"
Script editor Peter Anghelides added: "Tim Foley has written all three of these. I love how each is so distinctive in theme and mood. He's picked up on elements from the Clone Masters' appearance in the TV series, then combined and expanded them into imaginative new elements. We've only had a glimpse of their home world previously, so wait until you experience it at its pinnacle. Though at a pinnacle, there's only one direction of travel.
"As we put together the storylines, I realised we could plausibly bring together the two Travises within the continuity of Blake's 7. I don't think Tim could believe his luck, and Stephen Greif and Brian Croucher relished the chance. I can't wait to see how listeners respond to their scenes together.
"Tim's stories also link together beautifully as a trilogy. Plus, there are things set in motion that will play out in future box sets with a new psychostrategist character called Hinton, brought to life by the wonderful Abigail Thaw."
The Worlds of Blake's 7 – The Clone Masters is now available to pre-order as a collector's edition CD box set (at £19.99) or digital download (at £16.99). It can also be bought in a bundle with tie-in audio novel The Rule of Death (digital download only) from just £25.
Big Finish listeners can save more by pre-ordering three of The Worlds of Blake's 7 box sets – The Clone Masters, Bayban the Butcher & The Terra Nostra – for £80 on collector's edition CD and £70 on download.
Plus, previous releases in the range The Worlds of Blake's 7 – Avalon 1 & 2 are available together in a bundle for £38 on CD or £33 on download.
Browse all the bundle deals for The Worlds of Blake's 7 here.
Big Finish is currently operating a digital-first release schedule. The mail-out of collector's edition CDs may be delayed due to factors beyond our control, but all purchases of this release unlock a digital copy that can be immediately downloaded or played on the Big Finish app from the release date.