We love StoriesBig Finish produce great full-cast audio drama for CD and download, featuring many popular television fantasy series.
14 June 2018
Today we look at the cast of the upcoming Big Finish Original, Jeremiah Bourne in Time. Written by and starring The Young Ones' Nigel Planer, there's an amazing cast list of stars featuring alongside him.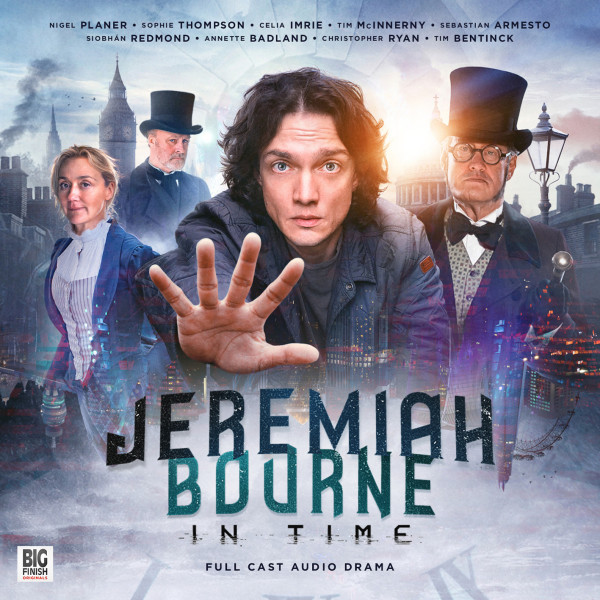 Check out the talented cast of Jeremiah Bourne in Time. Can you recognise any from other Big Finish tales?
Jeremiah Bourne is a boy with a remarkable gift. He can travel in time. Not by using a time machine, or stepping through a dimensional portal. It just happens to him, as though by accident. One minute he's in the present day, the next, he's a hundred years in the past, standing in the London of 1910.
Jeremiah has two questions; how did he get there – and how can he get back? On his quest for the answers, he enlists the help of Phyllis Stokes of The Society for Theosophical Research and her equally eccentric brother, Roger Allcot Standish, magistrate, spiritualist and dedicated nudist. He encounters the sadistic Mr and Mrs Grout and the ruthless Ed Viney, thief, gang member and slitter of throats. And he arouses the disapproval of Clementina Quentinbloom, the head of a home for 'Fallen Girls', by befriending Daisy Wallace, a girl ahead of her time.
Can Jeremiah get home? What is the connection between Clementina's establishment and Doctor Henry Davenant Hythe, the humanitarian and eugenicist? And does Jeremiah's gift of time travel have something to do with his mother's sudden disappearance, all those years ago...
Sebastian Armesto plays the titular Jeremiah Bourne, the boy who can travel through time (seemingly) at will. This is his second performance for Big Finish after The Eighth Doctor tale Grand Theft Cosmos, but listeners may also recognise him from Star Wars: The Force Awakens, Pirates of the Caribbean: On Stranger Tides, and as Ben Jonson in the movie behind the possible origins of Shakespeare, Anonymous.
Sophie Thompson plays Phyllis Stokes; a five-time Olivier Award nominee, she won the 1999 Olivier Award for Best Actress in a Musical for the London revival of Into the Woods.
Many people will recognise Tim McInnerny, playing Rodger Allcott Standish, from roles in Notting Hill and Blackadder, but he also starred in The Fourth Doctor novel adaptation, The Well-Mannered War.
Celia Imrie plays Clementina Quentinbloom. Big Finish listeners will recognise Celia Imrie from her performances in The Prisoner Volume 1, Counter-Measures Series 2, Fourth Doctor tale Gallery of Ghouls, and as Miss Lavinia Sixpence in the upcoming Big Finish Original, Shilling & Sixpence Investigate.
Jeremiah Bourne in Time also sees a reunion take place as Nigel Planer and Christopher Ryan, two of The Young Ones stars, met up again in studio.
Tim Bentinck who plays Mr Grout is a regular actor for Big Finish, and as well as being in Jeremiah Bourne In Time, he also stars in Torchwood One: Machines (out in July) and Doctor Who Kingdom of Lies. Many congratulations to Tim on his recent MBE.
Annette Badland stars as Mrs Grout, and listeners will remember her from Series 1 of Doctor Who on television (particularly the episode Boom Town), but you'll also find her appearing in Pathfinder Legends, Rise of the Runelords, Vienna: Retribution, The Invisible Man (with the late John Hurt) and many other Big Finish releases.
Siobhan Redmond plays Hemling, and Big Finish listeners may also recognise her as the Rani in Sixth Doctor tales The Rani Elite and Planet of the Rani…
Ony Uhiara plays Daisy Wallace, and is best known for playing Adele in the BBC sitcom, The Crouches, which was broadcast from 2003 until 2004. You can also hear her in the Sixth Doctor releases The Last Adventure and The Seeds of War.
Alix Wilton Regan plays Lucy Bonnet, and has also appeared in Zaltys with the Fifth Doctor, Wave of Destruction with the Fourth Doctor and The Witch from the Well with the Eighth Doctor.
Lauren McCrostie plays Ruby in her Big Finish debut, but listeners may recognise her from the Tim Burton film, Miss Peregrine's Home for Peculiar Children.
Helen Goldwyn plays Janet, and will be very familiar to Big Finish listeners. She's starred and directed multiple Doctor Who releases, as well as appearing in Survivors, The Prisoner, and producing our first Big Finish Original, ATA Girl.
George Naylor plays Ed Viney, and he also played one of the Cicero brothers in our previous Big Finish Original, Cicero. You can hear a free extract here.
Barnaby Edwards, director, let us know what it was like recording Jeremiah Bourne in Time with all these amazing actors: "Without a doubt, this is one of the most impressive casts it's ever been my pleasure to work with. I'd love to say it was because we had a massive budget. We didn't. What we did have was an amazing script by Nigel Planer – and that's what brought in the talent.
"Nigel wrote all the characters as if he himself were to be playing them, furnishing them with wonderful lines and fully-rounded personas. As a consequence, every role is a gem."
Jeremiah Bourne in Time, a four-hour box set, will be released in July 2018 and is available now for pre-order priced at £17 a download, rising to £20 after its release.
The complete Big Finish Originals range is also available in a bundle at £125, as well as each series being available as individual downloads.