For The Love Of StoriesBig Finish produce fantastic full-cast audio dramas for CD and download.
Mysteries Unfold at Morlington Hill!
28 September 2022
Details are today revealed for the nail-biting episodes in the brand-new series of Shilling & Sixpence Investigate, due for release in November 2022 from Big Finish Productions.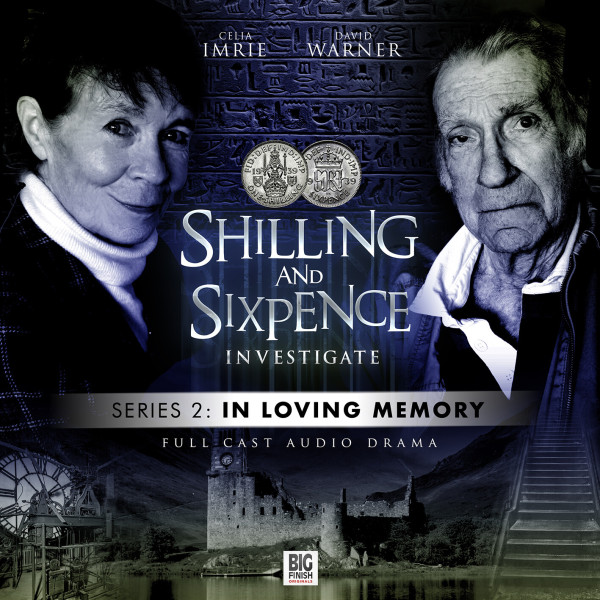 Multi-award-winning actress Celia Imrie and the late David Warner star as Lavinia Sixpence and Desmund Shilling in a compulsive full-cast audio mystery tale. With a delicious blend of darkness and humour, listeners are invited to join the amateur detectives on their investigations!
As Britain prepares for World War 2, trouble is brewing in the once-sleepy Cornish village of Morlington. Locals are going missing and Lavinia has a horrible suspicion she knows whodunit...
Big Finish Originals – Shilling & Sixpence Investigate: In Loving Memory is now available to pre-order as a digital download for just £16.99, exclusively here.
The brilliant ensemble cast returning to Morlington Hill is Lisa Bowerman (Barbara Yorkson), Louise Jameson (The Black Widow), Abi Harris (Desmund's sister, Enid Shilling), Matthew Waterhouse (Lord Robert Pluck), Nigel Fairs (Arthur Cribbage), Rebecca Crinnion (Peggy Pinn), Max Day (Leonard Brooke), and Radley Mason (Sgt. Derry).
Shilling and Sixpence are back! Following on directly from the breathtakingly exciting end of series one, the second series not only answers some of the questions it raised but poses more as Desmund Shilling (David Warner) and Lavinia Sixpence (Celia Imrie) embark on a new murder mystery with twists at every turn.
Dark secrets are revealed as the unlikely investigative pair uncover horrible truths in the Cornish village of Morlington. The Second World War has begun. London's children are being evacuated to the country and the Pluck family's loyal nanny has been kidnapped... by whom? And where has she been taken? After a death that chills Lavinia Sixpence to her very bones, she is determined to discover the truth...
The suspenseful episodes, all written by Nigel Fairs, are as follows:
The Walls Have Eyes
Lavinia Sixpence has been buried in a rockfall, Desmund Shilling has been poisoned on the Penzance to London railway train and Inspector Cribbage and his fiancé have been blown up in a motor boat in Dead Man's Bay. But all is not lost. Mary Clench is on hand to save the day...
Rags And Tatters
Lavinia's investigations take her and the Inspector to London, where an unexpected reunion takes place...
The Severed Hand
The Countess of Cannoth welcomes Shilling and Sixpence to her castle in Scotland, where the Duchess of Truro gets a nasty surprise in the bath...
The Coward's Kiss
The Inspector and Sergeant think they've found their murderer, until events at Cannoth Castle take a surprising turn for the worse...
Cease To Be
The case of the missing nanny would appear to have been solved and the murderer dealt with... until there's a telephone call from Scotland Yard which turns the investigation on its head...
Alone In The Dark
The shocking truth is revealed.
Matthew Waterhouse said: "[Shilling & Sixpence Investigate] is splendid. It's so amusing and yet deeply interesting. It's rich. The characters are exciting, complex, and demanding to play. It's been delightful. The fabulous Celia Imrie was wonderful to work with and, of course, David Warner was marvellous."
Abi Harris added: "I find enormous comfort in the Miss Marple-esque sort of stories. I think there's something secure, stable and dreamlike in going back to those bygone times and getting lost in those stories. It was very nice to do a bit of sleuthing myself as David Warner's younger sister, Enid."
Rebecca Crinnion said: "It's rich storytelling with really fabulously fleshed out characters. In the way that Nigel writes, you can really imagine yourself there and he takes you along the journey and from a performance point of view, it's just brilliant."
Big Finish Originals – Shilling & Sixpence Investigate: In Loving Memory is now available to pre-order as a digital download for just £16.99, exclusively here.
Big Finish listeners can save money and catch up with the previous Shilling & Sixpence Investigate release by purchasing series 1 and 2 together in a bundle for just £32 (download only). Alternatively, the first seven releases in the Big Finish Originals range (including the first Shilling & Sixpence Investigate box set) are bundled together for just £145 (download only).
All the above prices include the special pre-order discount and are subject to change after general release.
Please note that Big Finish is currently operating a digital-first release schedule. The mailout of collector's edition CDs will be delayed, but allpurchases of this release unlock a digital copy that can be immediately downloaded or played on the Big Finish app from the release date.