We love StoriesBig Finish produce great full-cast audio drama for CD and download, featuring many popular television fantasy series.
Out now - Doctor Who: Static
12 December 2017
The latest story in the Doctor Who Main Range, Static is a terrifying tale for the end of the year.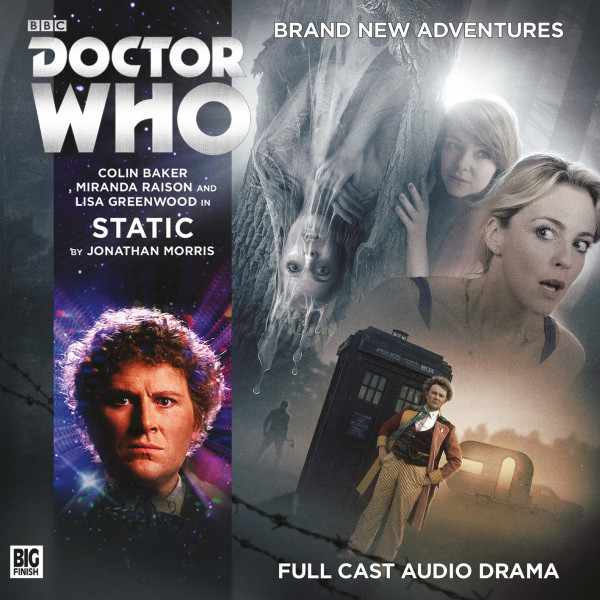 The last in the Sixth Doctor, Flip and Constance trilogy, Static by Jonathan Morris is a rip-roaring tale that doesn't let go from the beginning! Still trying to get Flip and Constance home, the Doctor stumbles upon temporal interference, and that's when their worst nightmares begin…
Deep in the heart of nowhere, near a place called Abbey Marston, there's a caravan site. The perfect place to get away from it all. Close by, there's a stone circle they used for human sacrifice in olden times. A little further afield, there's an old RAF research station, where they did hushhush things in the War.
There's only one rule: the use of radios, cassette recorders and portable televisions is strictly forbidden.
People come here to get away from it all, you see. No-one wants to hear the noise. No-one wants to hear the voices in the static…
No-one wants to hear the ghosts.
Writer Johnathan Morris tells us the origins of the last Sixth Doctor story this year, "It was late October 2016, that I came up with the idea for Static. Or rather, a way of fitting together all the ideas I had floating around in my head. I remember going out for a run when this incredibly thick mist came down. So thick I genuinely couldn't see more than a couple of yards ahead. I found myself stuck in this silent, white void, completely cut off from anything else. I started thinking about things that might come out of the mist; what would be the most terrifying thing I could imagine?
"And then, within the next ten minutes or so, all of my ideas suddenly locked together. I had my setting, my characters, my story structure and some scary scenes all worked out by the time I got home. It's amazing how being cold, tired and caught in some fog concentrates the mind."
Static is available now at £14.99 on CD or £12.99 on download. All CD purchases unlock a download option which works with the Big Finish app and the Big Finish website.
Or you can save money by getting a subscription to the Doctor Who Main Range. When you subscribe you'll get 30% off the price, free specially recorded Short Trips stories, PDFs of the scripts and extended downloadable extras. You can subscribe for either 6 or 12 releases.
Starting in the new year is a new trilogy of adventures for the Fifth Doctor and his three companions, Nyssa, Tegan and Adric. First up, it's a complicated tale of courtly intrigue and assassinations in Kingdom of Lies.
On the planet Cicero Prime, the kingdom of Cardenas is divided, with the whole population forced to swear allegiance to either the effete Duke or the fiery, hard-edged Duchess. This is a situation both parties have grown tired of. What use is half a kingdom when, thanks to a carefully engineered murder, you could have it all?
Surely, neither of them would be rash enough to summon the deadly off-world assassin The Scorpion to help with their problem? And surely, this terrifying figure wouldn't arrive wearing a long cream coat and striped trousers…?
Starring in this tale alongside Peter Davison, Sarah Sutton, Janet Fielding and Matthew Waterhouse is another familiar name as Patsy Kensit makes her Doctor Who debut. More information can be found here.