We love StoriesBig Finish produce great full-cast audio drama for CD and download, featuring many popular television fantasy series.
River Song goes cybernetic!
27 January 2021
Released today from Big Finish, The Diary of River Song: Series 8 is the latest of the dazzling full cast audio dramas about the Doctor's archaeologist wife and her travels through time.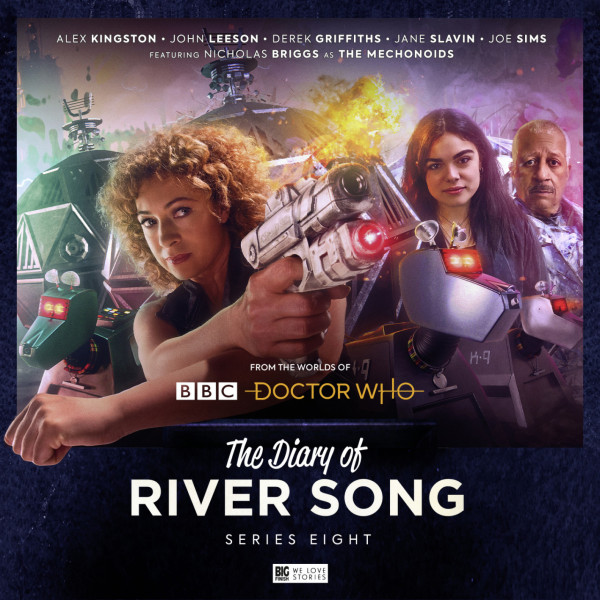 From an acquaintanceship with an android to a mêlée with the Mechonoids, River Song's up against all things automatic in these four fantastic new adventures. And she's all set to run into one of Doctor Who's most-loved companions.
Starring alongside Alex Kingston as River Song are Salome Haertel (reprising her role as the robotic Rachel), British children's TV legend Derek Griffiths (as 24th century war criminal, Annam Henic), monster voice artist extraordinaire Nicholas Briggs (as the Mechonoids) and fan favourite, John Leeson (as the Doctor's very own computer pooch, K9).
Plus, there's more than a hint of things to come...
The Diary of River Song: Series 8 is now available at £24.99 as a collector's edition four-disc CD box set or £19.99 as a download, exclusively HERE!
It's River and robots! Professor River Song is an expert in many things, but her tech skills are tested in these encounters with robotic friends and foes.
Over the course of four episodes River will battle Mechonoids on an ice world, meet K9 in a 'forever home', and help a treasured android friend discover her destiny in the stars...
The box set comprises of four uproarious new adventures, as follows:
Slight Glimpses of Tomorrow by James Goss
River feels responsible for synthetic person Rachel, left alone on a dying world. So she shows her the history of another, and teaches her the responsibilities of time travel.
But can an android understand what it takes for a civilisation to evolve?
A Brave New World by Tracy Ann Baines
Rachel has made a choice and joins a new society at the start of its journey. But she has not bargained for the worst instincts of humanity.
After leaving her ward behind, can River make it back in time to save her?
A Forever Home by Alfie Shaw
River finds herself caged and feeling under the weather. Luckily, her new owners are on hand to take care of her in her 'forever home'.
But which of River's keepers can she trust? Is robot cat FE-LINE all she seems? And is K9 still a girl's best friend?
Queen of the Mechonoids by Jonathan Morris
Space Security agents Anya Kingdom and Mark Seven answer a distress call – and find River Song, ruling a city of Mechonoids.
But another shock awaits beneath this planet's icy surface. The Mechonoids have been upgraded and are about to be unleashed upon the galaxy!
Producer David Richardson said: "We have, in Queen of the Mechonoids, a prequel to Dalek Universe – a piece of the jigsaw puzzle that is the Tenth Doctor's first full series since 2008. Our prequel finds River meeting Anya Kingdom (Jane Slavin) and Mark Seven (Joe Sims) – two characters that are pivotal to Dalek Universe – and then three of them will reunite in that series as well. How that will play out time, as always, will tell."
Alongside the previously announced cast, those tumbling through the Time Vortex are Tracy Wiles (UNIT, Transference), Laura Aikman (Master!, Torchwood), Sam Benjamin (The Tenth Doctor Adventures), Stewart Clarke (Doctor Who: Plight of the Pimpernel), Stephen Critchlow (Time Lord Victorious, Gallifrey), Clive Hayward (Space: 1999, Timeslip), Isabella Inchbald (The Paternoster Gang) and Homer Todiwala (The Robots, Survivors).
The Diary of River Song: Series 8 is now available at £24.99 as a collector's edition four-disc CD box set or £19.99 as a download, exclusively HERE!
Please note that Big Finish is currently operating a digital-first release schedule. The mail-out of collector's edition CDs may be delayed due to factors beyond our control, but all purchases of this release unlock a digital copy that can be immediately downloaded or played on the Big Finish app from the release date.