We love StoriesBig Finish produce great full-cast audio drama for CD and download, featuring many popular television fantasy series.
River vs the Masters: Out Now!
22 January 2019
River Song is facing off against four regenerations of The Master - the mortal enemy of the Doctor - in her fifth series of adventures, out now. Several other old faces have also made a comeback and we're delighted they've joined us at Big Finish!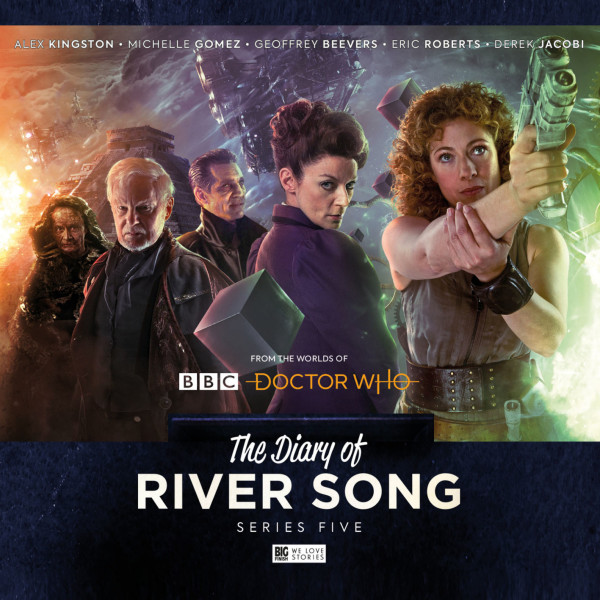 The Diary of River Song, Series Five is out now – and the universe better be ready for the fallout…
The Doctor isn't the only Time Lord River runs into on her travels up and down the timeline.
The Master, in all of his – or her – guises, also has a chequered history with Professor Song.
And whenever they meet, it's a close call as to who comes out on top...
It's something River must get used to: there are three people in her marriage – at the very least!
The Bekdel Test by Jonathan Morris
Back at the start of her imprisonment, Doctor Song becomes a guinea pig for an innovative new security system.
But it's her fellow prisoners she needs to be most wary of.
Because it's early days for Missy, too. The Doctor is dead, and she is outraged that somebody else killed him first…
Animal Instinct by Roy Gill
On a world where vicious beasts stalk ancient ruins, Professor Song teaches a student the finer points of archaeology.
But then she meets an incarnation of the Master who is desperate to survive.
And if they are going to escape this place alive, they all must work together.
The Lifeboat and the Deathboat by Eddie Robson
Stranded in the Vortex, a father and daughter do their best to survive, living on salvage in a ramshackle vessel.
Elsewhere, an obsessive ship's captain hunts down a vengeful monster, whatever the cost.
And River is caught between them, uncovering an old enemy in the most unexpected new guise.
Concealed Weapon by Scott Handcock
A deep space exploration mission nears its end – when suddenly, the crew start to die.
River must try to protect her colleagues and work out what else is on board their ship.
Something is stalking them, and the deadliest Master of all has his own plans for River Song...
Alongside Geoffrey Beevers (who first played the Master in the Doctor Who television episode The Keeper of Traken in 1981) and Derek Jacobi (who played the Master in the 2008 TV episode Utopia and Big Finish's War Master saga), Michelle Gomez returns as Missy. We last saw Missy opposite Peter Capaldi's Twelfth Doctor in the TV episode World Enough and Time with its tremendously emotional finale.
And Eric Roberts, who first crossed paths with Paul McGann's Eighth Doctor in the 1996 Doctor Who TV movie, returns to battle the Doctor's wife in a triumphant return to the role. Producer David Richardson revealed how these Masters were resurrected, or 'regenerated' you could say, in the December 2018 edition of Vortex: "Our executive producer, Jason Haigh-Ellery had told us that Eric Roberts would be interested in recording an episode with us reprising the role of the Master.
"This coincided with our securing Michelle Gomez for her own Missy box set, and I realised then that an exciting option was there for us to make a River Song box set in which she meets four different Masters. Derek Jacobi was already working with us so we knew he'd be onboard, and we've been lucky to be able to work with Geoffrey Beevers many times over the years."
The Diary of River Song: Series Five is available now at £23 on CD or £20 on download. It can also be purchased in a bundle with The Diary of River Song: Series Four, released in August 2018, at the price of £45 on CD and £40 on download (all CD purchases from the Big Finish website unlock a download exclusive from the Big Finish website and app).
The details of the story names in River Song Series Six are available now. River will be travelling up and down the Doctor's timeline, with stories set around classic Doctor Who episodes, The Talons of Weng-Chiang, Carnival of Monsters, The Web of Fear and the very first episode, An Unearthly Child. But will she encounter any of the early Doctors? More details can be found here.
And if you're craving even more masterly action, don't forget that Missy returns next month in her very own series.