For The Love Of StoriesBig Finish produce fantastic full-cast audio dramas for CD and download.
Solo - A Doctor Who Story
16 March 2022
The Fourth Doctor (Tom Baker) is back in the TARDIS and journeying alone in two brand-new audio adventures, released today by Big Finish Productions.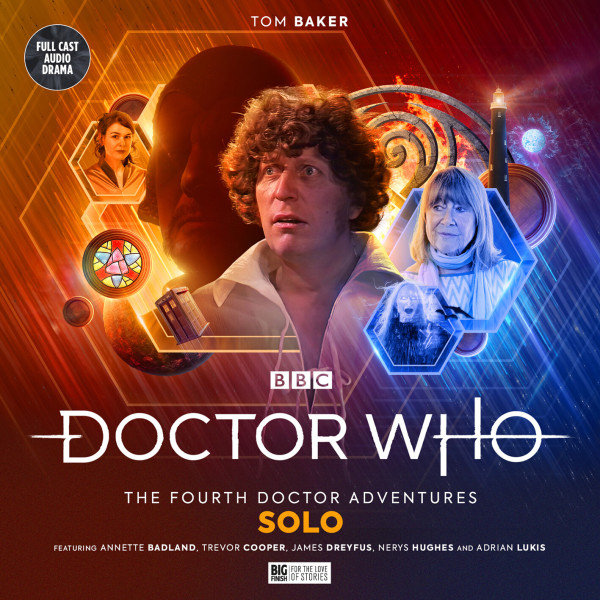 The Fourth Doctor Adventures: Solo is the first of two audio drama box sets that find the Doctor companionless and travelling in need of a friend. But there's still trouble to be found, firstly among the shelves of Gallifrey's infinite library and then on Earth in a small seaside town.
The star-studded cast for these stories includes Annette Badland, Nicholas Briggs, Trevor Cooper, James Dreyfus, Richard Earl, Susan Kyd, Adrian Lukis, Christopher Naylor, Emma Noakes, Lucy Pickles, Deli Segal and Jane Slavin.
The Fourth Doctor Adventures: Solo is now available to own as a collector's edition 4-disc CD box set (+ download for just £24.99) or a digital download only (for just £19.99), exclusively here.
The two exciting stories in this box set are as follows:
Blood of the Time Lords by Timothy X Atack
The book known as The Dischord Grimoire is an incredibly powerful tome, believed capable of altering the true passage of time itself. And the Doctor has it in the TARDIS.
Wanting to look into this mysterious opus further, he decides to take it to an old friend in The Recusary – a monastery-like retreat on a moon of Gallifrey.
But he's chosen an inauspicious time to arrive. Something else is visiting the Recusary. And this something hasn't brought a book with it... but death.
The Ravencliff Witch by David Llewellyn
The TARDIS lands in Ravencliff, a small town on the English coast that stands in the shade of a newly built power station. And that just happens to be haunted.
Every now and then a spectral figure is glimpsed on the beach - the Ravencliff witch. And every time she appears, it's the prelude to disaster.
The Doctor has to solve the mystery of her appearances if he wants to prevent a catastrophe. But he won't have to do it alone – as he has the help of Margaret Hopwood, a renowned sculptor destined to play a big part in his life.
As previously announced, The Ravencliff Witch guest-stars Nerys Hughes as Margaret Hopwood, who will return as a series regular in 2023 alongside Tom Baker as the Fourth Doctor and Louise Jameson as Leela.
Producer David Richardson said: "It was an irresistible prospect to tell stories set between The Deadly Assassin and The Face of Evil television episodes where the Doctor is travelling alone having bid farewell to Sarah Jane. It's given us the opportunity to explore a different side to the Doctor – who is he when he's not accompanied by one of his best friends? And we've also been able to bring in some one-off 'companions', individuals who are paired with the Doctor for just one story thus giving us a run in which every tale has a different chemistry among the cast."
Tom Baker said: "Blood of the Time Lords has a great mixture of quite high comedy and then going into very serious, dark areas. It's possibly the most literary audio drama we've ever done. I'm very optimistic.
"The Ravencliff Witch is spooky but with lovely characters. It's been absolutely glorious. Nerys is marvellous! I remember when she was just setting out. She loves doing this fantastical stuff. She is the nation's sweetheart and quite right too. People just adore her."
Nerys Hughes added: "Doctor Who has weaved in and out of my life. I feel as if I'm part of a gang. I go back a long way with Tom Baker. We were both at drama school together. I always knew he was going to do something special.
"[Margaret Hopwood] is a very well written part. I tried to get a gruff forthrightness to her but showing that she's vulnerable underneath, which is always interesting. Despite herself, she gets involved because she absolutely hates the fact that she's near a nuclear plant. Then all hell breaks loose."
The Fourth Doctor Adventures: Solo is now available to own for just £24.99 (CD box set + download) or £19.99 (download only), exclusively from the Big Finish website.
Each of the two stories is also available as an individual download at £12.99:
Plus, Big Finish listeners can save even more money with a pre-order of both Doctor Who – The Fourth Doctor Adventures: Series 11 volumes together in a bundle for £46 (CD + download) or £39 (download only).
All the above prices include the special pre-order discount and are subject to change after general release.
Please note that Big Finish is currently operating a digital-first release schedule. The mail-out of collector's edition CDs may be delayed due to factors beyond our control, but all purchases of this release unlock a digital copy that can be immediately downloaded or played on the Big Finish app from the release date.