For The Love Of StoriesBig Finish produce fantastic full-cast audio dramas for CD and download.
Stephen Greif Narrates Zero Point!
29 September 2022
Discover what happened between the Federation and the Terra Nostra after the infamous intergalactic war in a brand-new Blake's 7 audiobook, released today by Big Finish Productions.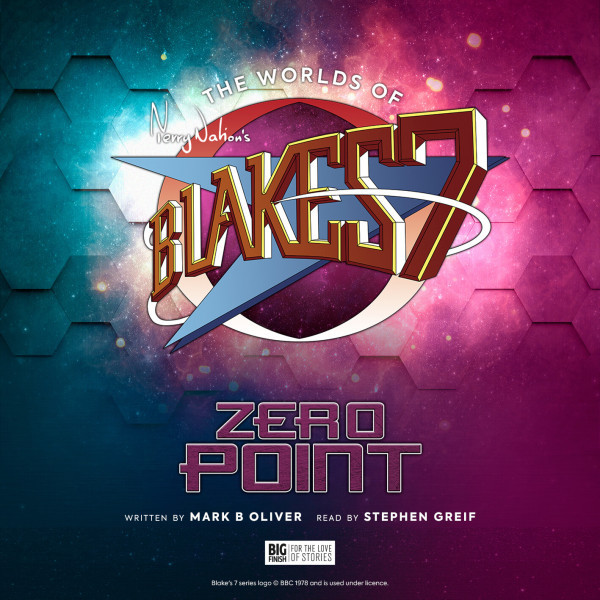 In this epic adventure, written by Mark B Oliver, Cally takes charge of the Liberator ship as the Season C crew goes undercover and infiltrates the Terra Nostra's top-secret facility!
Stephen Greif, who originally played Space Commander Travis on the Terry Nation TV series in 1978, performs the six-hour audio narration and expertly captures the voices of several other Blake's 7 fan-favourites.
The Worlds of Blake's 7 – The Terra Nostra: Zero Point is now available to own for just £9.99 as a digital download only, exclusively here. In December, this adventure will also be available to enjoy as a premium hardback novel for £16.99.
During a skirmish with a small patrol of Federation pursuit ships, Orac is badly damaged. There is only one person who can repair the super-computer: Federation Doctor Brynn Pellas.
Avon and Tarrant take Orac to her base, unaware that the planet she lives on isnow under the control of the Terra Nostra -and Pellas is in the crime syndicate's back pocket.
Pellas can repair Orac, but first, the Liberator crew must steal a secret Federation weapon for the Terra Nostra. Codename: Zero Point.
Writer Mark B Oliver said: "Zero Point is set at the very beginning of Series C, not long after the events depicted in the television episode Volcano (1980). Avon, Cally, and Vila have returned to the ship after the intergalactic war but with Blake and Jenna missing, the power dynamic has very much changed. Tarrant is brash and confident. Dayna is finding her feet on the Liberator, away from Sarran and her murdered father and sister.
"This period is a marked inflection point in the series that was ripe for further exploration, and oh, what fun I had doing that!"
Stephen Greif said: "It's a very technical script but it moves along very nicely. All of the terms are very realistic and authentic, some of them took a good bit of tongue-twisting on my part, but they all make complete sense.
"The main joy of this sci-fi series is the number of friendships that I've continued to enjoy along the way. But of course, sadly, [there has also been a] number of losses including my dear friend Paul Darrow who we celebrated recently with a convention dedicated to him.
"It's always hard work preparing the material [for audiobooks] but doing Paul's voice [as Kerr Avon] was very easy for me. He had a very distinct way of speaking which was very effective and very Paul. It was a pleasure and while I was doing it, he was with me and that, of course, was an even greater pleasure because he was a lovely boy."
Big Finish listeners can save money by purchasing Zero Point and the full-cast audio adventure box set The Terra Nostra together in a bundle for just £28 (collector's edition CD + tie-in download) or £25 (download only).
Alternatively, a complete bundle offering all the full-cast audio dramas and tie-in audiobooks for The Clone Masters, Bayban the Butcher, The Terra Nostra are available to purchase together in a bundle from just £70 (download only).
From October to December 2022, the Rule of Death, Bayban Ascending and Zero Point audiobooks from The Worlds of Blake's 7 will be available as premium hardback novels with stunning full-colour jacket sleeves. The titles can be pre-ordered for just £16.99 (hardback printed book) or £12.99 (eBook) per title, exclusively here.