For The Love Of StoriesBig Finish produce fantastic full-cast audio dramas for CD and download.
Out now: November's Vortex with David Tennant and Billie Piper
31 October 2017
Excited for more Tenth Doctor and Rose? Read all about the forthcoming release in next month's Vortex magazine, available for free from the Big Finish site today...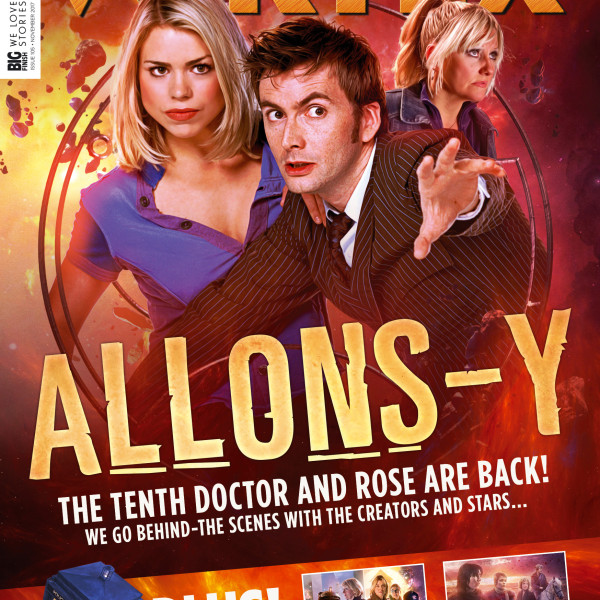 Everyone at Big Finish is thrilled for next month's release of the Tenth Doctor Adventures Volume Two, with David Tennant and Billie Piper back as the Tenth Doctor and Rose. You can catch up with all the behind the scenes gossip from recording back in May this year, with the early release of the next Vortex magazine!
Vortex editor Kenny Smith finds out how Big Finish managed to reunite David and Billie in the studio (who last worked together on Doctor Who in 2013's 50th anniversary special The Day of the Doctor), and we look further into the three stories contained in the volume, Infamy of the Zaross by John Dorney, The Sword of the Chevalier by Guy Adams, and Cold Vengeance by Matt Fitton.
Also, for new fans of Big Finish discovering the world of Doctor Who audio, Kenny has the Tenth Degree, pairing the best Big Finish tales to accompany the Tenth's television episodes.
You can read Vortex here, and you'll get a free copy with any purchase next month.
And don't forget to pre-order the Tenth Doctor Adventures Volume Two, only available at Big Finish at £35 on CD or £25 on download.
Also in Vortex you can find more information about UNIT: Encounters, starring Jemma Redgrave and Ingrid Oliver as we continue the adventures of the new UNIT team, and Survivors series seven, both out next month.
And next month's Listeners Title is announced today! You can get the audiobook tale of Survivors, written by Terry Nation and read by Carolyn Seymour, this month for just £2.99 a download. Tune in to the trailer below:
If you've never listened to Survivors before, this is the perfect opportunity to explore the world of the survivors, the people left after a global pandemic kills off the majority of the human race.
Don't forget we still have our Halloween offers, running until 23:59 UK time tonight. Get special offers on The Omega Factor and Survivors, and Big Finish books, starting from just one pound. Read all the details of the offers here.
Finally, don't forget that it's the last day for the pre-release prices on Captain Scarlet's 50th Anniversary set, Torchwood - Aliens Among Us Part 1, and Doctor Who - The New Adventures of Bernice Summerfield 4: Ruler of the Universe, so strike now before they go up!