We love StoriesBig Finish produce great full-cast audio drama for CD and download, featuring many popular television fantasy series.
The Fourth Doctor at Big Finish (part 3)
17 October 2019
Tom Baker's third series is set between seasons 14 and 15 of the classic series, and again features Louise Jameson reprising her role as Leela. Here's our mini-guide.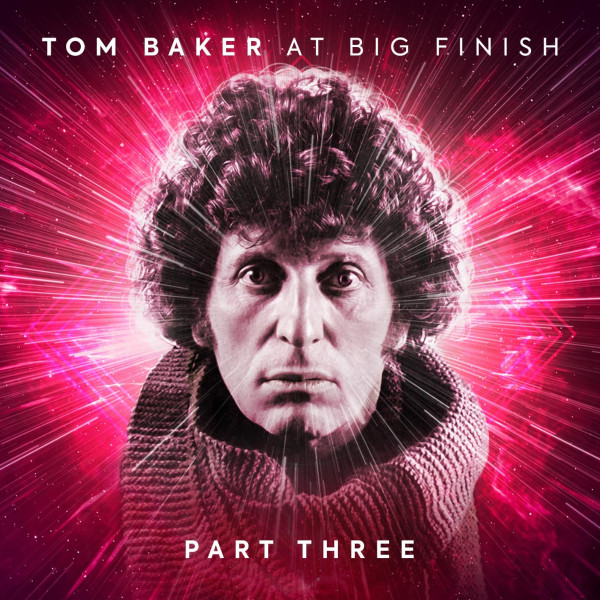 Kenny Smith reviews the series...
The King of Sontar, by John Dorney
The third Elite Sontaran Assassination Squad closes in on its target, but even they will be unable to bring down the invincible Sontaran Strang. Manipulated by the Time Lords, the TARDIS also arrives on Dowcra. And the Doctor is set to encounter the greatest Sontaran ever cloned...
John Dorney: "I liked the idea of it being a full-on bad-ass Sontaran, changing all the expectations by having him out of his armour, being physically huge, and so on, and that all led to the cliffhanger of the Doctor having a go at the probic vent and nothing happening, which always entertained me as an idea."
White Ghosts, by Alan Barnes
A close encounter with a stray missile leads the Doctor to materialise his TARDIS on a planet that hangs in the dark at the edge of the known universe. A planet so dark that it exists in near-permanent night. A planet that enjoys just a single day's light once every thousand years, and when daylight comes, the White Ghosts rise…
Alan Barnes: "I was thinking partly of doing a story where night-time was safe but daytime was deadly. Another side of it was that I'd watched or read about extremophiles [organism that thrives in extreme environments], mosses and lichens that grow in Antarctica, cactuses and things."
The Crooked Man, by John Dorney
During winter at the seaside, people are dying and a strange spindly figure stalks the cold, deserted streets. The Doctor and Leela stumble across a grotesque series of murders at the coast, and the TARDIS travellers realise something supernatural has come to town, seemingly tied in to a particular young family.
John Dorney: "I started to think about how I genuinely believe we, as people, kind of fictionalise our lives. We've seen so many films that we think our lives are somehow similar or reflected, but I don't think our lives feel like stories in reality. We're trained to think there will be a third act in our lives and a plot twist, or someone will stop and explain the plot and make it all come together. I just don't think that happens in real life"
The Evil One, by Nicholas Briggs
The TARDIS lands in the cargo hold of luxury space cruiser the Moray Rose. The crew and passengers are missing. The agents of Inter-Galaxy Insurance are determined to find out what's happened, and the Doctor and Leela find themselves facing a horde of metal mantis-like aliens. But Leela is haunted by terrible nightmares...
Nicholas Briggs: "Having Leela in the thrall of the Master was part of the brief, I believe. It's always great to pull that trick of having a beloved character behaving in a nasty way. It's really upsetting for the audience, and putting Leela through the emotional wringer, struggling with what is and isn't real, was very exhilarating — because we love her and experiencing her in such a terrible pickle just engages so many of our emotions."
Last of the Colophon, by Jonathan Morris
The planet Colophos is a dead world. When the Doctor and Leela land, joined by the crew of a survey ship, it's not long before they receive a communication from one of the ruins, from Astaroth Morax, last of the Colophon. Attended by a sadistic robot nurse, Morax is in a wheelchair and bound in bandage. The Doctor uncovers a terrifying secret…
Jonathan Morris: "Last of the Colophon is a bit of a riff on The Invisible Man. Now, invisibility is scientific nonsense, more or less. You can have very, very good camouflage but changing your physical nature so that light can pass through you is probably pure fantasy."
Destroy the Infinite, by Nicholas Briggs
The colony planet Delafoss is occupied by the army of the Eminence, and slave armies of terrified humans are commanded by the dreaded Infinite Warriors. The Doctor and Leela arrive expecting to find Earth's most successful, unspoiled colony - but find an entity that wants to wipe out human resistance once and for all.
Nicholas Briggs: "The Eminence was very much something I came up with while writing Destroy The Infinite. I just had the urge to create an ongoing enemy which would appear all over the Doctor's timeline. I was thinking of how alien a 'monster' could be, so I created all this strangeness surrounding them — the caskets and the inhaling of the 'breath of forever'. I wanted them to be shrouded in mystical stuff. I always find fanatical belief the most terrifying thing."
The Abandoned, by Louise Jameson and Nigel Fairs
The Point of Stillness - a place the Time Lords are forbidden to go - a place that cannot even be thought. And yet somebody is very keen to reach it. Deep within the TARDIS, something unusual is happening. One of the ship's oldest secrets is about to be revealed, and once it is, nothing will ever be the same again.
Louise Jameson: "I was at a convention, and when I was looking out at the audience, I realised just what an eclectic and extraordinary bunch the fans are. Doctor Who can attract the most challenged minds and literally the best minds in the country. Imagination can keep you trapped in a room because of what you think is on the other side. But imagination can also get you a job in Australia. If you envisage yourself there, you can make it happen."
Zygon Hunt, by Nicholas Briggs
On the jungle planet Garros, Earth Forces are hunting gigantic beasts, for sport. When the Doctor and Leela arrive, they are caught up in a web of intrigue where there is no clear friend or foe. But why is there a link to Earth's Solar System's Defence Shield? And a terrible secret lurks deep within the trees.
Nicholas Briggs: "I wanted an environment in which the Skarasen would be right at home. I also had this idea that the leadership of Earth's defences were very decadent and wanted a high risk holiday. This is also a thinly disguised 'base under siege' story."
All the Fourth Doctor Adventures series 03 titles, starring Tom Baker and Louise Jameson, are available on collector's edition CD or download, via the links above, or as a discounted complete series bundle.
SALE! Get 40% OFF all these Fourth Doctor adventures. Use checkout code OCTOMBAKER to apply the discount.
Collector's edition CDs and download bundles for The Fourth Doctor Adventures Series 1-6 now also have a 40% discount applied for the period of the offer (no code required). This deal expires 23:59 (UK time) on October 31st 2019.