4.07. The Suffering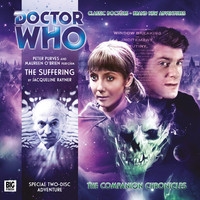 Released February 2010


Prices
CD
US $16.98
Download
US $9.99

Web Special Price!


Synopsis
SYNOPSIS:
The TARDIS materializes in England in the year 1912, a time of great social change. The Suffragette movement is lobbying for votes for women, and the skull of the so-called 'missing link' has been discovered in Piltdown.
While Vicki falls victim to a strange influence, the Doctor and Steven investigate the fossilized remains. The Suffering has been unleashed. Can the travellers survive its rage?
NOTE:
Double-CD release; available at usual price to subscribers.
Written By: Jacqueline Rayner
Directed By: Lisa Bowerman
Cast
Peter Purves (Steven Taylor), Maureen O'Brien (Vicki)
Producer David Richardson
Script Editor Justin Richards
Executive Producers Jason Haigh-Ellery and Nicholas Briggs