6.04. Dethras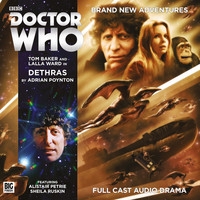 Released April


Prices
| | |
| --- | --- |
| CD | US $14.07 |
| Download | US $8.99 |

Synopsis
This title was released in April 2017. It will be exclusively available to buy from the BF website until May 31st 2017, and on general sale after this date.
'Without beating around the bush; it's another pretty perfect 4th Doctor story! I give this a highly evolved 9/10!' - IndieMac User
'Dethras makes you sit up and take notice and challenges, it requires active listening rather than passive enjoyment and stands out as a very mature story, no monkeying around here. Dethras has a well deserved 9/10.' - Planet Mondas
'This may be Adrian Poynton's first foray into Big Finish, but I personally doubt that it will be his last.' - Gallifrey Archive
'This story is a brilliant piece of sci-fi and a cracking first time out for a new writer. If any of hios next works are as engaging as this one, then big Finish have something very special on their hands. 9/10' - Blogtor Who
In the control room of a World War 2 submarine something strange has started to happen. As the ship runs out of control, its crew begin to fall unconscious...
Finding the submarine in the last place they'd have expected, the Doctor and Romana are confronted by a mystery. Once fully populated, there are now only three men on board. And there's now also a chimpanzee.

What has happened to the rest of the crew? What are the strange noises they can hear outside the hull?

And most importantly, who, or what, is Dethras?
Written By: Adrian Poynton
Directed By: Nicholas Briggs
Cast
Tom Baker (The Doctor), Lalla Ward (Romana), Alistair Petrie (John), Shelia Ruskin (Flague), Josh Bolt (Philip), Brian Vernel (Robert), John Banks (Franklin), Jane Slavin (Xankari/ Teacher).
Producer David Richardson
Script Editor John Dorney
Executive Producers Jason Haigh-Ellery and Nicholas Briggs