121. Enemy of the Daleks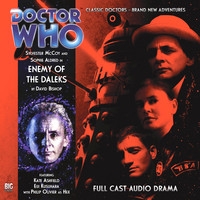 Released May 2009


Prices
| | |
| --- | --- |
| CD | US $19.33 |
| Download | US $12.99 |


Synopsis
Bliss used to be a paradise planet. The Galapagos Islands of space. But when the

TARDIS

brings the

Doctor

,

Ace

and

Hex

to Bliss, it's been over-run with ironweed plants, and the air is heavy with the stench of burnt silk and static electricity.

Worse, the

Daleks

are coming, on the trail of a lost patrol of starship troopers. Holed up in the Roarke 279 research facility, Lieutenant Beth Stokes is preparing her last stand against the invaders.

But there's a secret on Bliss, a secret guarded by the obsessive Professor Shimura…

This time, could it be the

Daleks

who need saving?


Written By: David Bishop
Directed By: Ken Bentley
Cast
Sylvester McCoy (The Doctor), Sophie Aldred (Ace), Philip Olivier (Hex), Kate Ashfield (Lieutenant Beth Stokes), Bindya Solanki (Sergeant Tahira Khan), Eiji Kusuhara (Professor Toshio Shimura), Jeremy James (Sistermatic/Kiseibya/Male Patient/Male Voice), Nicholas Briggs (Daleks)
___________________________________________________________________
BONUS EPISODE! THE COMPANION CHRONICLES: THE THREE COMPANIONS
In Memoriam by Marc Platt: The Doctor, Polly, Ben and Jamie are trapped on a doomed world that is scheduled for cremation. But what are the coffin-loaders and why does Lethbridge-Stewart remember them too?