218. Order of the Daleks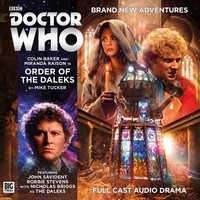 Released November 2016


Prices
| | |
| --- | --- |
| CD | US $19.81 |
| Download | US $12.99 |


Behind the Scenes
The CGI designer responsible for the Dalek on the cover of this release, Chris Thompson, comments on the work:
"I take great enjoyment from the distinct styles of different cultures and I always thought it would be great fun to reinterpret various iconic sci-fi designs in the style of other cultures and eras.
For this reason, getting to do a stain glass Dalek (or Dalek Stainly as he/she is affectionately called) was particularly exciting. The brief from Jamie Anderson (the Director) was that it was constructed by the indigenous monks of an alien civilisation after the previous casings where destroyed.
I went around local churches for reference and looked at things such as iron gates, stained glass windows and cloisters for the shapes, my first designs somewhat deviated from the classic silhouette with added details such as crowns, a dome that came down like a samurai helmet, large ball rollers on the base etc.
Eventually we reigned it in to something more classic in style with a few gothic elements such as the neck piece and the claw holding the glass eye. No sink plungers on this planet so the arm became a claw and the weapon became a retractable spear.
We decided to lose the hemispheres on the skirt in favour of a stain glass design, in my head it depicts the various moons over the planet set against the seasons. There is also a second eye between the arms representing the mutant inside. There had to be a certain glass to iron ratio to make it look like it could support its own weight.
All in all I am very pleased how the design turned out and honoured to have featured on Simon Holub's wonderful cover."
- Chris Thompson, August 2016
Writer's Notes, by Mike Tucker
It's always a pleasure to receive an invitation to write for the main Doctor Who range, it's even more of a pleasure when that invitation also includes the use of the Daleks. My very first Big Finish audioplay featured the Daleks – The Genocide Machine, way back in 2000 – so I was delighted to get a chance to write for them again.
I was equally delighted to get a chance to write for a different Doctor. Every play I've written to date has been for the Seventh Doctor, and in every case it's also been for an established television companion. Order of the Daleks not only gave me a chance to explore the character of the Sixth Doctor, but set the challenge of writing for a new Big Finish companion, in the form of Miranda Raison's Constance Clarke.
As always, the pitch process involved submitting several different storylines, and the one that Alan Barnes settled on as being suitably different from previous storylines was the one initially entitled Survival of the Daleks.
Principally set within the confines of an alien monastery, Alan felt that the setting offered a lot of potential, and encouraged me to include all the monastic trappings possible. The setting also allowed me to play with an idea that had been kicking around in my head for some considerable time – that of the Dales being trapped on a pre-industrial world, and having to use primitive materials on order to affect repairs to their casings. Originally I had hoped to include wooden Daleks, but objections to that concept raised by the Terry Nation estate necessitated a change to metal and stained glass instead.
With my setting and principal monsters sorted out I turned my attention to the supporting cast. I've made no secret of my love for the 'double acts' favoured by Robert Holmes and Eric Saward, and indeed have tried to use very similar comedic pairings in several of my previous plays. One of my favourite Holmes' double acts isn't actually in Doctor Who at all, but in its sister series, Blake's 7. Egrorian and Pinder, from the series 4 episodeOrbit, embody everything that I like about Holmes' writing. Both characters are simultaneously comedic and sinister, likeable and loathsome, brilliant and tragic, and I wanted something similar for my supporting cast.
Rewatching Orbit, I was struck by how perfect actor John Savident (Egrorian) would be for the role of my pompous planetary Assessor Mr Pendle, and so I wrote that character with all of Savident's mannerisms and vocal quirks. Surprisingly, Savident had only appeared in one episode of Doctor Who on tv - a 'blink and you'll miss it' role in part one of The Visitation - and so when director Jamie Anderson asked if I had any thoughts on casting, I put his name forward. To my huge delight, Jamie managed to secure Savident for the role, and it was remarkable hearing every line that I had written for the character spoken exactly as I had imagined.
As with all scripts, the story evolved considerably from my initial ideas – and one of the main changes revolved around the Daleks themselves. I had initially suggested that the primitive casings be incapable of speech, and that each Dalek would be accompanied by a novice monk who would intone any dialogue in a suitably Daleky fashion. It was Alan who pointed out that it would just sound as though we had got the Dalek voices wrong, and that depriving the audience the chance to hear Nick doing proper Dalek voices seemed like too much of a cheat. Alan was right of course, and there is something deeply satisfying at hearing the Dalek voices ring out during the episode one cliffhanger.
Returning to the Daleks after a 16 year gap has been great fun, and I'm extremely grateful to Nick Briggs for giving me the chance to write for them again, to Alan Barnes, for solving a lot of logistical problems with episode four, and to Jamie Anderson, for bringing it to life in such rich style.