211. And You Will Obey Me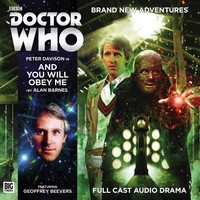 Released April 2016


Prices
CD
US $20.99
Download
US $12.99

Web Special Price!



Behind the Scenes
Writer's Notes
Spoiler alert! Stop reading now, if you've not yet heard the play…
And You Will Obey Me is a pretty unconventional Master story, I suppose – but then it had to be. Each of the three parts of the 'Two Masters' trilogy needed to feel very different from one another, to avoid repetition. So it couldn't be a 'Master as mystery malefactor', or a 'Master as megalomaniac' story; I needed to draw out other aspects of the Master. But that was OK, because I like the Master most when he's used as a corrupter, and a tempter – as an exploiter of human weakness, you might say. It's set up as far back as Terror of the Autons, in his manipulation of weak-willed plastics factory heir Rex Farrel – a man with domineering Daddy issues, clearly! I think, too, that the Master is at his most interesting when his back's against the wall – when he's not the master of his situation, perversely. That's certainly the case in The Deadly Assassin, when we first meet the 'decayed Master', later played by the brilliant Geoffrey Beevers. So I started to think in terms of the Master stuck on Earth, with nothing – wounded, with no TARDIS, no TCE, no all-powerful alien allies. They say an animal's at its most dangerous when it's wounded…
The image of the Master's TARDIS crashing into a barn, miles from anywhere, made me think of one of my favourite TV plays – Dennis Potter's Blue Remembered Hills, with its amazing cast of adult actors playing children. It was an irresistible idea – the Master crash-lands, and he's found by a group of children. I started thinking, too, about Whistle Down the Wind – a fantastic old British movie in which children shelter an escaped convict, convinced he's actually Jesus. (My namesake plays one of the kids in that, in fact: "You're not Jesus! You're just some fella!" he tells Alan Bates at one point.) I had the period horror film Blood on Satan's Claw on my 'mood board' too – with Wendy Padbury as one of a group of village children who fall under the influence of a demonic presence unearthed in a ploughfield, and Anthony Ainley as a vicar. At first, I meant to do the lengthy flashback episode in the style of Blue Remembered Hills – ie, with adult actors playing their childhood selves, without explanation. Nick Briggs thought that might be testing our credibility to its limits, so I agreed to rethink. The solution to that problem was to say that the children never aged as a result of their encounter with the Master – which gave a whole new dimension to the story, and lent their story a slightly tragic edge. The tragedy of being middle-aged, when you're still a teenager in your head!
Not all my inspiration was drawn from things I'd seen, or read, or experienced in the past – like being part of a group that got kicked off the number 84 bus at South Mimms in 1984 and had to walk miles home, because some girls in the back seat had been singing Relax to taunt the driver (all that actually happened!). When I'm wrestling with a storyline, I like to take a nice long walk, to clear my head. One of my favourite places for a think is the Lye Valley in Oxford, a sort of secret nature reserve inside the ring road, known only to Ox natives. I was trying to think of something interesting to do with the alien bounty hunters on the Master's trail, when something buzzed right across my line of sight – a huge blue dragonfly. And so the Dragonhunters were born!
Finally: I'd like to take the opportunity, if I may, to dedicate And You Will Obey Me to my old college chum Lee Ryder, who died in January – stupidly young, of a stupid cancer. Lee was a big Big Finish fan, who was listening to BF plays throughout his chemo – including some of my own, I know. I hope they amused him; I'd hoped this one would, too. Wherever you are, Lee, old mate – this one's for you, with love.
Alan Barnes, 2016
Twitter: @senrab_nala