7.6. The Bad Penny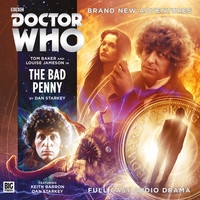 Released May 2018


Synopsis
In the 1970s, hotelier Ron Tulip is having a difficult time. Many of his customers seem to be absconding without payment. The few who remain complain of strange noises and terrible sleep. And to top it all he's just been summoned to the VIP suite... which is something of a problem as he didn't even realise the hotel had one.
When turbulence in time takes the TARDIS off course, the Doctor and Leela find themselves visiting the same establishment and in the middle of a temporal paradox and a terrible plan.
Because that's the thing about the Cross-Keys hotel.
You can check in... but you can never leave.
Written By: Dan Starkey
Directed By: Nicholas Briggs
Cast
Tom Baker (The Doctor), Louise Jameson (Leela), Dan Starkey (Hadean/Small Hadean/Liddell/Mr Richards), Keith Barron (Lord Tulip), Greg Haiste (Ron Tulip), Andrew Ryan (Edwin), Laura Rees (Deborah / Major Harris). Other parts played by members of the cast.
(Note that this release is one of four collected together in Doctor Who - The Fourth Doctor Adventures Series 7B)
Producer David Richardson
Script Editor John Dorney
Executive Producers Jason Haigh-Ellery and Nicholas Briggs