217. The Memory Bank and Other Stories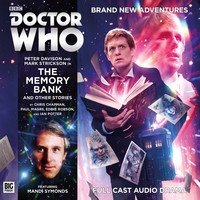 Released October 2016


Prices
| | |
| --- | --- |
| CD | US $19.78 |
| Download | US $12.99 |


Behind the Scenes
Writers Notes – The Memory Bank by Chris Chapman

I first met Nick Briggs back in 2011 and we have the Exxilons to thank.

In those days, I was making DVD 'special features' for the classic Doctor Who range, producing 40-odd different extras – including the Who Peter mini-series; dozens of making-ofs; tributes to much-missed Who stars; the reanimated Ice Warrior episodes and the well-received trilogy of docs presented by Toby Hadoke – Looking for Peter, Living with Levene and Hadoke vs HAVOC.

On the DVD range, we'd always try to give a Who story a proper behind-the-scenes film, even the ones we weren't particularly keen on! One such tale, for me, was the Jon Pertwee adventure Death to the Daleks. But one of the lovely things about Doctor Who is that every story has its fans, and it turns out that Nick Briggs is The World's Biggest Death to the Daleks Fan (well, that's how we credited him in the documentary, anyway). I interviewed Nick to champion this story of chanting Exxilons and impotent Daleks and not too long afterwards, we met for a drink where I raised the suggestion of me pitching a script to Big Finish. Nick kindly replied that the door was always open. I'd written a number of short films before, but never an audio play – this would be a new challenge!

However, I'm rubbish. Five years passed of me getting distracted making telly documentaries, before I actually sat down to write up a few mad Doctor Who ideas for Nick, in January 2016. A key aide to me at this point was seasoned Doctor Who writer, Andrew Smith – a good friend who provided an invaluable sounding board for my pitches. I sent in three concepts, one of which, The Memory Bank, caught the eye of script editor Alan Barnes, and suddenly, I was writing a Doctor Who story.

For me, the core theme of The Memory Bank is that memories are very fragile. My father passed away in 2009, and I quickly became supremely paranoid that I would forget some aspect of him: what he sounded like, how he moved, moments we'd shared. I'd find myself trying to recall his voice and sometimes, momentarily, failing – and that really scared me. So, in classic Doctor Who style, I thought: what if there was a place where memory is so fragile that if you're forgotten, you cease to exist?

Initially, when I pitched the story, it was vaguely intended as a 4-parter with Tegan and Nyssa as the 5th Doctor's companions – with Tegan forced to become the Archivist as Turlough does. Alan Barnes' first question was whether I could retool it as a single-parter with the boy from Trion as the sole assistant, which I happily agreed to.

It turns out, Turlough is great fun to write for. As a character, he doesn't seem to recognise that this show is called Doctor Who and not Vislor Turlough. He carries himself as an intellectual equal to the Doctor – but one who can be selfish in all sorts of delightful ways. He's always interesting, never just 'nice', so a bit of a gift to write for – things just naturally seem to happen to him.

The best part of the process was the research – by which I mean having to re-watch old Davison-era Doctor Who (tough job, this!) to scribble down the kind of language both Five and Turlough like to use. After that, the big challenge was getting the script down to fit its 30min slot - which I suspect it may have gone a little over in the end!

I was invited along to the recording of the Memory Bank back in April, with the lovely Helen Goldwyn in the director's chair. It was a huge geeky moment of my life to hear Peter Davison, Mark Strickson (and the rest of the fantastic cast) speak things I'd scribbled.

I left the studio floating somewhere between clouds 9 and 10. So thank you to Nick, Alan, Helen, producer David Richardson and the whole cast and crew – it really has been a brilliant experience.

Oh, and thank you to the Exxilons too!