8.7. The Perfect Prisoners Part 1-2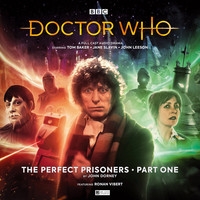 Released February


Synopsis
The Doctor, Ann and K9 are hot on the trail of the Syndicate, and straight into trouble.
After contending with killer robots and dangerous aliens, the clues lead straight to a machine that can literally make your dreams come true. A device that in the wrong hands could lead to misery for billions.
But who's the real villain here? And what exactly is their master plan?
Written By: John Dorney
Directed By: Nicholas Briggs
Cast
Tom Baker (The Doctor), Jane Slavin (WPC Ann Kelso), John Leeson (K9), Ronan Vibert (Zaal), Simon Bubb (Jodor Colwyn), Christopher Naylor ('M'/ 'S' /Trooper), Timothy Speyer ('T'/ 'B'), Francesca Hunt ('C'/ 'G'/ Drarn), Other parts played by members of the cast.
Producer David Richardson
Script Editor Guy Adams
Executive Producers Jason Haigh-Ellery and Nicholas Briggs