3. Blake's 7: The Spoils of War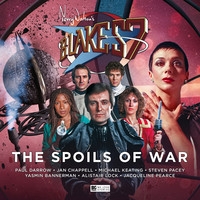 Released July 2017


Prices
| | |
| --- | --- |
| CD | US $45.13 |
| Download | US $30.00 |

Synopsis
"Across the four stories, all the principals get some time to shine and there are some charming character moments alongside healthy doses of action. Recasting is always a perilous task, but I'm pleased to say that I found Yasmin Bannerman slotted into the crew effortlessly; recapturing Dayna's sense of youthful vigour and frustration. Frankly, I'm hooked again and the TV box sets will be back in heavy rotation. 9/10" - Indie Mac User
"If you're looking for a meaty science-fiction series to discover, or rediscover, Blake's 7 is certainly worth picking up. Despite not having much background I was able to enjoy the stories and found myself wanting to know more about the world, the politics and the characters. Blake's 7 seems like a truly ambitious and unique show despite its influences being many." Blogtor Who
"Across all four stories, every character has an opportunity to shine – and shine they do, which means that there are some charming character moments alongside healthy doses of action. But no matter what happens or who takes part, I'm hooked again. This set is a great reboot to adventures on the Liberator. Bring on the rest please!" Mass Movement
Liberation by Steve Lyons
In the aftermath of the Galactic War, everything has changed for Blake's former associates. Having lost their leader, they are forced to work with new allies - people they can't trust. And that may just get all of them killed.
Outpost by Christopher Cooper
Tarrant and Vila are on a mission to the abandoned outpost Clivian 410B when a Federation taskforce attacks. The wary crewmates must learn to work together if they stand any chance of staying alive.
Close Enough by Sophia McDougall
When the crew of the Liberator are lured into a trap, it's Avon's life - and the freedom of the galaxy - that hang in the balance, while Cally regains something she thought she had lost forever.
Solus by George Mann
When the Liberator responds to a distress call from the Solus research station, Avon is hoping to find something valuable he can salvage. Instead, he finds only one survivor amongst the wreckage: President Servalan.
Written By: Steve Lyons, Christopher Cooper, Sophia McDougall, George Mann
Directed By: John Ainsworth
Cast
Paul Darrow (Kerr Avon), Michael Keating (Vila Restal), Jan Chappell (Cally), Steven Pacey (Del Tarrant), Jacqueline Pearce (Servalan), Yasmin Bannerman (Dayna Mellanby), Alistair Lock (Zen/Orac), Sara Powell (Rokon), Stephen Boxer (Tarkol), Daniel Collard (Aqulia / Guard #1 / Guard #2), Sophia Hannides (Shuuna), Tracy Wiles (Valance / Roska), Keith Drinkel (Kaverin), Charlotte Watson (Imra). Other parts played by members of cast.
Producer John Ainsworth
Script Editor John Ainsworth
Executive Producers Jason Haigh-Ellery and Nicholas Briggs