2. The Tony & Cassandra Mysteries Series 02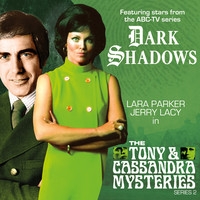 Released November 2018


Prices
CD
US $45.00
Download
US $30.00

Web Special Price!


Behind the Scenes
CHRONOLOGICAL PLACEMENT:
The Tony & Cassandra Mysteries are set between The Last Stop and The Phantom Bride
Co-producer Joseph Lidster says: "People seemed to like the first series so we spoke to Big Finish about producing more adventures for the detective duo. We didn't want to do just more of the same, though, so Series 2 delves into their relationship a lot more. They get a new secretary – Alice Wilkes – who they previously encountered on the doomed Flight 493, and Cassandra is starting to try and settle down to life in the 1970s. She's even rented an apartment!
"The second series features cartoon characters coming to life, a spooky sanitarium, a two-hander told in real-time and a mysterious lonely-hearts hotel where Tony and Cassandra have to go undercover because obviously they most definitely, absolutely, don't have any romantic feelings for each other at all.
"Doing more of The Tony & Cassandra Mysteries has also allowed us to bring some new writers into the world of Dark Shadows – with Grace Knight, Joshua J Price and Tanja Milojevic joining returning writers Alan Flanagan and Philip Meeks."
The first story, The Mystery of Stone Heart Studios, is by Philip Meeks. "The idea for Stone Heart Studios came to me when I read about the recent death of Heather North, the actor who gave Scooby Doo's Daphne a voice," says Philip. "I've always been fascinated by voice artists and I thought it would be great fun to give our actors the challenge of playing multiple parts within the story we were telling.
"Heather's death also reminded me of how creepy I used to find the soundtracks of the old 70s cartoons I watched as a kid. The weird canned laughter. The comedy noises accompanying violent happenings. I decided they were the perfect starting point for a horror story featuring some original and terrifying monsters."
In the second story, Tony and Cassandra then find themselves heading out to investigate The Mystery of West Vale Sanitarium by Joshua J Price and Tanja Milojevic. Joshua says: "Both Tanja and I are new to the world of Dark Shadows. A colleague of ours, Bill Hollweg, introduced us to the series a few years back and we fell in love with the characters, the town of Collinsport and the great storytelling that went with it. I emailed Big Finish about some storyline concepts I had in mind, never really expecting to hear back.
"But here we are, not three years later, and we are loving every minute of working on the second series of The Tony & Cassandra Mysteries. We're humbled and honoured to be a part of such a creative and encouraging team of truly talented individuals."
Tony finally gets to visit Cassandra's new apartment in the third story, Alan Flanagan's The Mystery of Apartment 493. "Tony and Cassandra are a chance to go absolutely hog-wild – I love writing for them," explains Alan. "I love the scrapes they get into, and I love how crazy their stories can be. After sending them plummeting from 40,000 feet last time round, I thought I'd give them some time off with an episode set in one dinky apartment. Needless to say, things very much do go bump in the night!"
In the series finale, the duo find themselves investigating The Mystery of the Soulmates Hotel, written by Grace Knight. "Writing this script has been the most fun I've had all year," says Grace. "I knew I was onto a winner when I got an email from Joe asking me to write for the show and telling me they wanted 'whatever strange, mad idea I have!'
"Since my standard writing process involves getting to the end of draft one and then working out how to remove the ghost and the four or five spaceships that always seem to creep in, this was a bit of a relief. The Tony & Cassandra Mysteries are such exciting, warm-hearted adventures; it's been a total pleasure to get to join in the fun."