1.05. Trail of the White Worm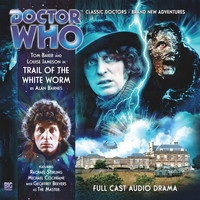 Released May 2012


Prices
| | |
| --- | --- |
| CD | US $15.35 |
| Download | US $8.99 |


Behind the Scenes

This story takes place between The Talons of Weng-Chiang and Horror of Fang Rock.
BRINGING BACK THE MASTER
Producer David Richardson reveals how the Master returned to Big Finish
When was the decision taken to include the Master in Series One?
It was very early in the planning stages. Nick and I were discussing what we'd like to see in this opening series of The Fourth Doctor Adventures and the return of the Master was a no-brainer. I think we'd hoped to bring the character back for a while, and were looking for making a big event out of it - Tom's Big Finish debut seemed the most natural choice.
Where does this fit into the other Master stories?
This is the Master from the Fourth Doctor's era of the show - the rotting creature at the end of his regeneration cycle. So naturally we wanted Geoffrey back for the role, not only because he played him in The Keeper of Traken but also - to be frank - he is wonderful. Tom kept talking about Geoffrey's brilliance for months after the recording.
Is it true that great villains are always played by nice people?
Certainly from my experience. Geoffrey is the loveliest, warmest, funniest man in real life. And yet given him so evil dialogue and he relishes it!
What memories do you have of the recording?
None! I had a stomach bug that day! Can you believe it? The big rematch between the Doctor and the Master and I was at home, ill. By all accounts it was a riotous day and guest star Rachael Stirling was very funny behind the scenes. I made sure to drag myself to the studio on the next day for The Oseidon Adventure though!