We love StoriesBig Finish produce great full-cast audio drama for CD and download, featuring many popular television fantasy series.
8 October 2018
The original cast of Blake's 7 return for a new series of full cast audio adventures†¦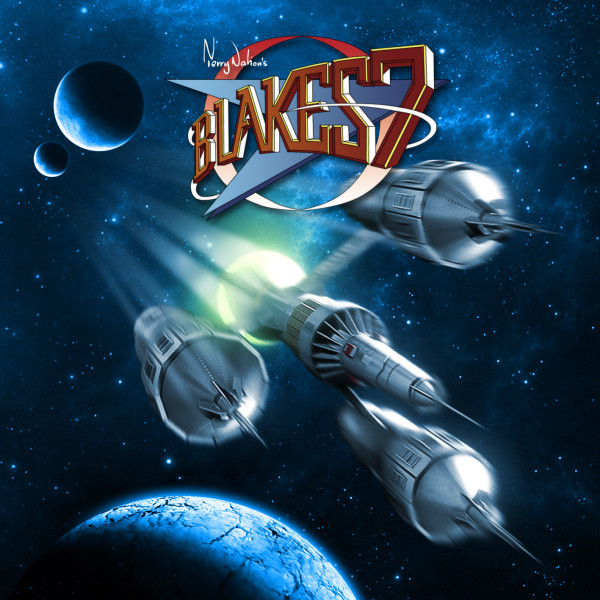 In Crossfire, the last series of Blake's 7, the crew of the Liberator were caught in the middle of a devastating war for control of the Federation between Servalan and the former President whom she deposed.
The story continues in Restoration, a new series of 12 episodes. Paul Darrow, Jan Chappell, Michael Keating and Steven Pacey all return to once again recreate their roles from the classic TV series, with Alistair Lock providing the voices of computers Orac and Zen and Yasmin Bannerman in the role of Dayna.
In Restoration Part 1, to be released in January 2019, four new adventures see the now vulnerable crew of the Liberator desperately attempting to repair their crippled ship and avoiding capture by the Federation. The stories are:
Damage Control by Trevor Baxendale
The Hunted by Iain McLaughlin
Figurehead by Scott Harrison
Abandon Ship by Steve Lyons
Damage Control picks up the story where Crossfire ended, with a critically damaged Liberator falling into a star. Avon has taken a gunshot wound to the stomach, Cally is unconscious, and Tarrant has lost control of the ship. All hope seems lost.
In The Hunted Avon and Vila play a deadly game of cat and mouse with the Federation President and his right-hand man, General Mordekain.
Despite their own predicament, Cally and Tarrant answer a call to aid the fight against the Federation on the Gamma Vynos II, where they encounter someone from their past, in Figurehead by Scott Harrison.
Abandon Ship finds the crew of the Liberator at breaking point. Their only hope to repair the Liberator lies with the engineer, Keel Ozaban, but can the crew trust him… or each other?
Restoration Part 2 will follow in July 2019 and Part 3 in November 2019. Each box set will be available from bigfinish.com on CD or download.
Restoration Part 1 will be released in January 2019, with Part 2 released in July 2019 and the concluding Part 3 in November 2019. Each release will be available from Big Finish at £28 on CD or £25 on download. Don't forget each CD purchase unlocks a download option from the Big Finish app or site.
Or save money in a bundle - get the whole of Restoration on pre-order as a bundle at £78 on CD lor £72 on download.
Producer and director John Ainsworth said, "We're very excited to continue the Blake's 7 saga with Restoration, which is a direct sequel to the preceding Crossfire series. The war between the presidents may be over, but the Liberator crew are now faced with the pressing problem of repairing their badly damaged ship. Until they can do that, they are vulnerable and easy prey for Federation forces and the new President.
"As previously, this new series will be a mix of action and adventure, and the relationships between the Liberator crew will be sorely tested by the desperate situations that they find themselves in. Our aim, as always, is to make our stories as authentic to the original TV series as possible, while exploring the characters in greater depth than ever before."
Also released in January 2019, is Uprising by Christopher Cooper, a brand new Blake's 7 novel, which will be available in hardback and as an audiobook.
Blake persuades the Liberator crew to join an uprising on the planet Istria, a vital supplier of food to the Federation. He hopes to hit the Federation where it hurts – and send a powerful message of unity to rebel groups everywhere. But with the odds stacking up against him, and Space Commander Travis in hot pursuit, even Blake starts to wonder who he can trust. Is he right to put so much faith in the Istrian rebels and their mysterious hired mercenary? It's clear that Jade is a deadly killer with a secret past, but what is her hidden agenda – and how has Gan fallen so completely under her spell?
Interview between editor Xanna Eve Chown and author Chris Cooper
Hi Chris! Tell us a bit about your upcoming book:
"Blake is determined to unite rebel groups across Federation space. He thinks he's found the perfect way to do that... It doesn't take long before that plan unravels. For obvious reasons, there are certain characters, and some very special actors, that sadly I won't get to write for as part of an audio drama. Given that this is the 40th anniversary of the series, and that I'd been given the dream job of writing a Blake's 7 novel where I could feature Blake and Gan, I wanted to take the opportunity to revisit that early period of the show."
Who is your favourite character in the book?
"I'm not sure I have a favourite, but letting Gan take centre stage was important to me, as I always felt that character suffered in terms of development with all those other strong personalities on the Liberator. Having said that, I always enjoy writing Vila, and getting inside the heads of Blake and Avon was fun. I tried to give all of the characters some decent character moments."
How long have you been a fan?
"Way back to The Way Back. I was nine years old, and freshly primed for space opera and rebellious deeds by Star Wars. But I was pretty much the only kid at school who seemed to be aware of the series. When I drew a picture of the Liberator one day, my friends all thought I'd forgotten an X-wing fighter's fourth wing. Blake's 7 was always a series with big ideas, and really pushed what the BBC could do with a 50 pence piece and some sticky-backed plastic, so I hope readers will find the spirit of the early series in this book and enjoy the gazillion-dollar budget I spent on the effects. In my head.
Blake's 7: Uprising will be available on hardback at £16.99, an online copy at £12.99 and on audiobook at £9.99.
More audiobooks from Blake's 7 and the other worlds of Big Finish are coming soon!