We love StoriesBig Finish produce great full-cast audio drama for CD and download, featuring many popular television fantasy series.
New to Doctor Who? Start here!
13 December 2018
Thinking of dipping a toe into the audio world of Doctor Who - or missing Doctor Who on your television screens? Never fear, Big Finish is here! And in 2019, we've more Doctor Who than ever before as we celebrate 20 years of Doctor Who on audio.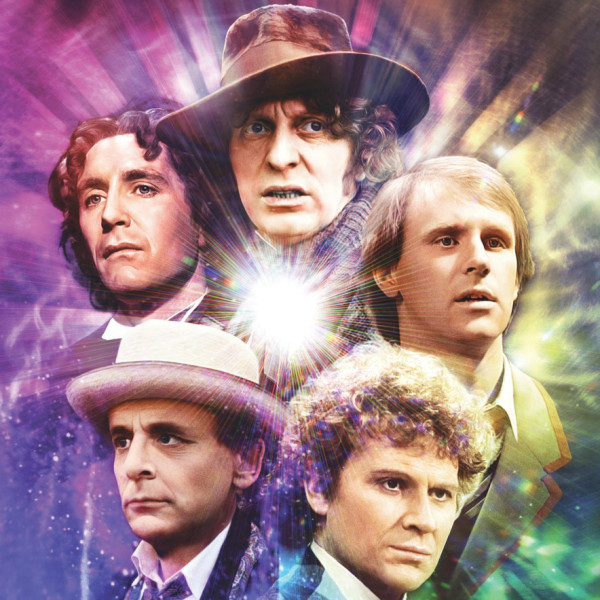 If you've just found us, welcome to Big Finish! We are a production company and publisher of award winning audio dramas, available both on CD (one of the last companies in the UK to still make them) and download. We are perhaps best known for our Doctor Who ranges of plays (and its various spin-offs) but we also produce a wide selection of audio drama featuring the characters from Sherlock Holmes, Blake's 7, Dark Shadows, Terrahawks, Captain Scarlet and the Mysterons, The Avengers, The Prisoner, Survivors, The Omega Factor plus our own original series – and more!
If you're navigating the Big Finish website for the first time, you'll see there's a startling amount to choose from. If you need any suggestions for where to start then make sure you read on!
Big Finish started releasing Doctor Who stories back in 1999 (before Doctor Who returned to our TV screens in 2005). These first releases (known as the Main Range or Monthly Range) starred the Fifth, Sixth and Seventh Doctors, played by Peter Davison, Colin Baker and Sylvester McCoy, joined by Eighth Doctor – Paul McGann – two years later.
Although no longer being re-pressed (CDs are available whilst stocks last), the first 100 of these adventures are available at £2.99 each on download – we suggest using the Big Finish app.
You could start with the very first Big Finish Doctor Who story, The Sirens of Time, featuring the Fifth, Sixth and Seventh Doctors. Other favourites among Big Finish fans are Spare Parts which tells the origins of the Cybermen (and was the basis of the TV return of the Cybermen to the new series of Doctor Who back in 2006), or Jubilee, the story that became the TV episode Dalek.
For fans of the Eighth Doctor (following his appearance in the Doctor Who television movie) there are many more adventures. From Main Range releases with Charlotte Pollard such as The Chimes of Midnight (a Christmas favourite) and then C'rizz, the Eighth Doctor continued to explore the universe with companions Lucie and Tamsin in The Eighth Doctor Adventures (available individually or as series bundles). The Eighth Doctor also starred in the three consecutive sagas – Dark Eyes, Doom Coalition and the ongoing series Ravenous (you can save money by buying these sagas together in bundles).
There are plenty of other worlds of Doctor Who to find, as one of the great virtues of Big Finish is that it is able to explore and add to the mythology of many loved characters. From the unopened pages of The Diary of River Song to further missions for the UNIT team, cases for the Infernal Investigators Jago & Litefoot and the return of the original yet slightly different TARDIS team in The First Doctor Adventures starring David Bradley. And there's plenty more – head to the Doctor Who New Series range for more choices.
And of course, if you're looking for stories with a specific character click on the Ranges tab and you can choose adventures starring your favourite Doctor, and/or companion in stories from that era.
One of the best ways to save money at Big Finish is by purchasing releases in bundles. In a bundle you can buy a whole series or a mix of releases in one go. Stories still to be published will be placed on pre-order and delivered on release. A bundle could also help save on shipping costs (depending on where you are in the world). Check the website for which bundles you can get with each release.
Another way to save money is by buying a subscription. Subscriptions are available for the Main Range releases and normally save you 30% off the price – plus you receive free specially recorded Short Trips, PDFs of the scripts and extended download extras!
We also have shorter adventures, a good way of getting a flavour of the characters. Try our Short Trips only available from Big Finish. At just £2.99 per download, the Short Trips cover a whole mix of characters, narrators and Big Finish writing talent. If you're new to the Short Trips range, try popular stories like A Full Life, The Siege of Big Ben or All Hands on Deck. These little trips in the TARDIS offer a unique perspective to travelling the cosmos.
Or to get a taste of several Doctors at once, try Classic Doctors, New Monsters. Combining Doctors from before the return of the TV series in 2005, and monsters created by Russell T Davies or Steven Moffat, there's something for everyone. Plus we have many other collections featuring multi-characters and Doctors, such as The Destiny of the Doctor series, The Light at the End (our special 50th anniversary of Doctor Who release), and Main Range release Zagreus.
One of the best ways to hear about our products is from the Big Finish newsletter, sent out with every big release, containing free extracts of stories in advance, updates on special offers and much more.
And keep checking the Big Finish website and follow our social sites, Facebook, Twitter, YouTube and Instagram for announcements, special offers, competitions, news, giveaways or even just updates from the studio on Doctor Who and our other ranges.
For more idea and recommendations click on the Big Finish for Free or New to Big Finish? tabs on the website.
And why not ask fellow listeners for their recommendations. After all, it's you who've helped to keep Big Finish going to this day!