We love StoriesBig Finish produce great full-cast audio drama for CD and download, featuring many popular television fantasy series.
Star Cops Mother Earth 2 out now
27 November 2018
The Star Cops have four new cases to solve in Mother Earth 2, out now. David Calder returns as Commander Nathan Spring, with Trevor Cooper as Colin Devis and Linda Newton as Pal Kenzy, joined by new recruits Rakhee Thakrar playing Priya Basu and Philip Olivier as Paul Bailey.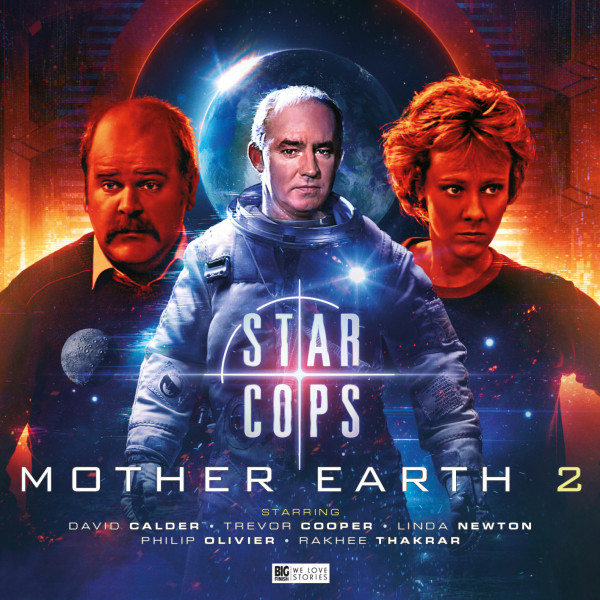 The relaunch of the British sci-fi TV series Star Cops (created by Chris Boucher and first broadcast on BBC2 in 1987) continues with Star Cops Mother Earth 2, out now.
It's been months since the last attack by Mother Earth, the activist group opposed to mankind's expansion into space. It's believed that the group is finished. But instead, Mother Earth is about to renew its campaign. This time with even more ferocity and violence.
2.1: DEAD AND BURIED by Guy Adams
At Lunar Interments, the moon's graveyard for the wealthy, the caretaker has noticed something odd in the burial records. Odd enough for him to call in the Star Cops.
In the lunar resting place of the dead, Devis will find himself racing against the clock to save his life and hundreds of others.
2.2: THE KILLING JAR by John Dorney
The Charlie Chaplin is a second-hand space station operated as a space-tourism hub by entrepreneur Martin Thane. When Nathan receives reports that serious accidents and even a death have been caused by Thane flouting safety laws, he decides to investigate.
An accident investigation soon becomes a murder enquiry. And as the Star Cops hunt for the killer, the station becomes a death trap threatening everyone on board.
2.3: MOONSHINE by Roland Moore
A friend of Kenzy's on the space station Coral Sea has been dismissed for possession of alcohol and sent back to Earth. She believes his claim that he was framed, and when she learns of his subsequent suicide she and Devis travel to Australia to investigate. A difficult enquiry is not helped when Kenzy's former fiancé, a Police Superintendent, appears on the scene.
On Moonbase, Nathan is expecting an official visit from a powerful dignitary. So it's not a good time for there to be a fatal incident that may be the work of Mother Earth…
2.4: HOSTAGE by Andrew Smith
Kenzy and Priya are responding to a murderous Mother Earth explosion at a moon outpost when one of the workers, Mary Ward, takes a hostage and makes demands, accusing others of trying to kill her. She appears to have snapped under pressure.
As the crisis develops, dangerous secrets are revealed. Secrets that some will be prepared to kill for. And die for.
Andrew Smith, former police officer and script editor of Star Cops, told us all about the reboot of the science fiction police procedural: "It was really nice that people who knew Star Cops were saying how true it was to the original series, and it was great to hear from people who hadn't seen it on TV and didn't know very much about it, as they said they had enjoyed it too. I got so many nice emails and direct messages from people. "
A big difference for Mother Earth 2 was having Linda with us in studio to play Pal Kenzy – and having Kenzy very much involved throughout all four stories. Linda was so pleased to be with us and to play Kenzy again, breathing new life into a character she last played 30 years ago." There's more on Mother Earth 2, including a chat with Linda Newton, in this month's Vortex magazine.
The first set of adventures for the Star Cops, Mother Earth 1 was released in May this year.
Star Cops: Mother Earth 2 is available now at £28 on CD or £25 on download. Don't forget that each CD purchase unlocks a download option on the Big Finish app and the Big Finish website.
Or you can save money in a bundle. Get Star Cops: Mother Earth 1 and 2 together for £50 on CD or £45 on download.
If you're new to the world of Star Cops, you can get an extract of episode 1, One of our Cops is missing, here.