We love StoriesBig Finish produce great full-cast audio drama for CD and download, featuring many popular television fantasy series.
The Third Doctor's going overboard!
18 May 2021
It's a double bill of brand-new adventures in Doctor Who – The Third Doctor Adventures: Volume 7, released today from Big Finish.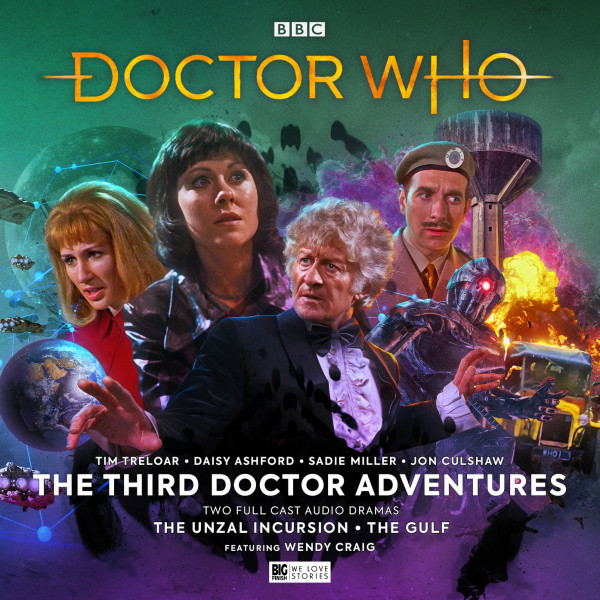 This box set of full-cast audio drama take the Third Doctor (Tim Treloar) and his companions the Brigadier (Jon Culshaw), Liz Shaw (Daisy Ashford) and Sarah Jane Smith (Sadie Miller) on a pair of perilous tales, from a military betrayal to a watery artistic retreat, where the tide is turning...
Big Finish listeners can also download the music suites for both stories, which will be available as bonus downloads for all purchasers of this release.
Doctor Who – The Third Doctor Adventures: Volume 7 is now available as a collector's edition box set (on CD for just £24.99) or a digital download (for just £19.99), exclusively HERE, with the two TARDIS tales as follows:
The Unzal Incursion by Mark Wright
Under the supervision of the Doctor, the Brigadier and Dr Liz Shaw, UNIT are getting ready to activate Hotspur: their new and advanced early warning network.
But something goes wrong, and UNIT are betrayed from within. Suddenly bases are falling across the globe, and only the Doctor and his friends are able to escape.
Not knowing how far the conspiracy goes, the Doctor, Liz and the Brigadier become fugitives... and they soon discover worrying connections to both the Fulcrum military training facility... and something beyond this Earth.
The Gulf by Tim Foley
The TARDIS lands on an ocean planet and the Doctor and Sarah find themselves on a former rig that's been converted into an artistic retreat.
But art is far from the residents' minds. A painter has disappeared, and the Doctor senses a dark psychic presence at play.
The waves are rising. And there's something in the water.
Of The Gulf, writer Tim Foley said: "I think the Third Doctor and Sarah are such an underrated duo. There's the melancholy of a Doctor reaching the end of his life, and the excitement of a companion just beginning her adventures – I think that's a Tim Treloar/Sadie Miller crossroads ripe for exploration.
"In The Gulf, we're on an alien ocean planet, on a decommissioned spindrifter – a concrete rig floating on a poisonous ocean. The galaxy is at war, but this former industrial site has been transformed into an artistic retreat – led by the fabulous Marta Malvani. I like it when the Third Doctor rails against a corporation and a system, and I wanted Sarah to experience something wondrous whilst also wearing her investigative journalist hat."
Of recording The Unzal Incursion, actress Daisy Ashford said: "I really loved working with Tim again on this latest Third Doctor Big Finish release. It was wonderful after being in lockdown to be able to actually go to a studio and work with him in person – with all the necessary precautions of course.
"We were in separate booths but could see each other from behind the glass. The rest of the cast were either in another studio in Liverpool or recording from home, but we were all connected over the headphones, so it felt like we were together. It is a brilliant script, with lots of action and peril to overcome which is always so much fun to play. Tim was, as ever, cheeky, funny, naughty and brilliant as the Third Doctor. Close your eyes and Jon is there instead – I don't know how Tim does it!"
Alongside the previously announced Wendy Craig, the cast is completed by Sam Benjamin (Justice League, The War of the Worlds), Clare Corbett (Casualty, The Ninth Doctor Adventures), Lucy Goldie (The Omega Factor, Missy), Avita Jay (Stranded, Silent Witness), Misha Malcolm (Time Lord Victorious, Torchwood), Gary Martin (Dennis The Menace, Corpse Bride), Jennifer Saayeng (The Capture, Eastenders), Issy Van Randwyck (Fascinating Aïda, The Paternoster Gang) and Bethan Walker (Blake's 7, Doctor Who: Doom Coalition).
Doctor Who – The Third Doctor Adventures: Volume 7 is now available as a collector's edition box set (on CD for just £24.99) or a digital download (for just £19.99), exclusively HERE
Big Finish listeners can save even more money by ordering this volume in a bundle together with the forthcoming Third Doctor Adventures Volume 8 from just £39.
Big Finish is currently operating a digital-first release schedule. The mail-out of collector's edition CDs may be delayed due to factors beyond our control, but all purchases of this release unlock a digital copy that can be immediately downloaded or played on the Big Finish app from the release date.