We love StoriesBig Finish produce great full-cast audio drama for CD and download, featuring many popular television fantasy series.
30 April 2019
UNIT: Incursions is out now and the Doctor's wife challenges the might of UNIT. With Jemma Redgrave returning as Kate Stewart and Ingrid Oliver as Osgood, together they'll have to take on an intergalactic archaeologist, the elements and even death itself. Three more missions have been deployed...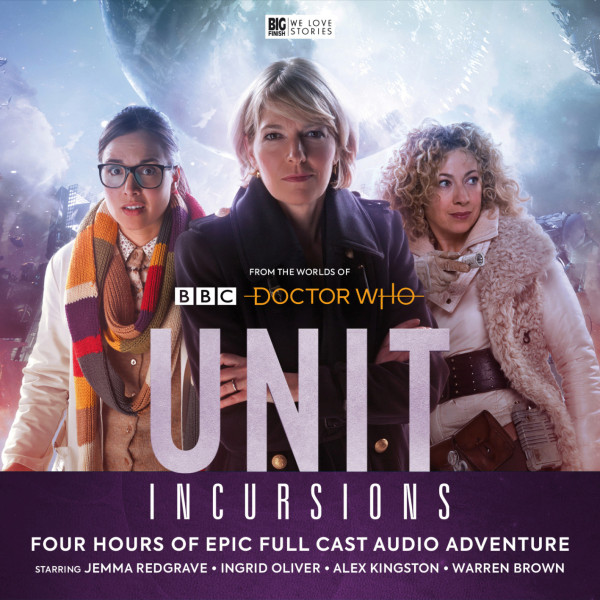 Threats to our planet come in many forms. Some are alien visitations, some lay dormant in Earth itself, and occasionally, danger arrives with a big gun and fantastic hair.
Whatever the threat, whoever the enemy, UNIT is ready to defend the world.
8.1 This Sleep of Death by Jonathan Morris
Abbey Marston. UNIT's dark secret. A place where the laws of space and time, life and death, can be suspended. Where remembering the departed has consequences… When UNIT faces a threat from a dead man, Kate has no choice but to return to Abbey Marston once more, to disturb the sleep of death. But the Static are waiting…
8.2 Tempest by Lisa McMullin
When the planet's weather systems start behaving strangely, Osgood is worried. Soon, she and Sam Bishop are heading to a remote Scottish island where an eccentric old woman speaks to the wind itself.
Meanwhile, Kate Stewart visits a deep-sea oil-rig where strange things are afoot. A tempest is coming, and it could be disaster for the entire world.
8.3 The Power of River Song Part 1 by Guy Adams
UNIT has been assigned to monitor the switch-on of a revolutionary new power system – they know from experience such things can be tricky.
Nearby, Osgood and Lieutenant Bishop investigate mysterious disappearances – and appearances of trans-temporal phenomena. Kate would like to ask the Director some questions, but she's proving strangely elusive… until there's a murder.
8.4 The Power of River Song Part 2 by Guy Adams
There's a dead body in the power station. River Song is the prime suspect. And Kate is most concerned by the identity of the victim.
Meanwhile, Sam and Jacqui chase Vikings, while Osgood finds herself out of time. As deadly predators focus their attention on Earth, it seems activating the power of River Song could spell the end of everything…
This Sleep of Death by Jonathan Morris follows on from the Sixth Doctor's adventure Static, the Monthly Adventures release from December 2017. What UNIT now encounter will surely conclude a truly terrifying story.
Tempest by Lisa McMullin sees the UNIT team on a mission in Scotland where oil rigs are under threat in the Hebrides, and there's a chilling breeze in the air… And the two parter, The Power of River Song by Guy Adams will find the UNIT team helping a scientific project for total renewable energy led by a mysterious curly-haired director. On this mission, one of the team will make the ultimate sacrifice for time itself…
UNIT: Incursions is available now priced at £22.99 on CD or £19.99 on download (until July 2019, when it will go up to its general release price). Don't forget that every CD purchase unlocks a download exclusive via the Big Finish app or the Big Finish website.
Or why not buy UNIT: Incursions (series eight) with UNIT: Revisitations (series seven), UNIT: Cyber-Reality (series six) and UNIT: Encounters (series five) all together at £90 on CD or £80 on download.
And here's a special note from Matt Fitton on some changes happening to the UNIT range: "After 5 years and 8 series, it's time for me to say farewell as script editor on the UNIT range. As befits such a pioneering organisation, UNIT led the charge into the fray – the first Big Finish audio series to tread fully into New Series territory after the licence was extended into post-2005 Doctor Who back in 2015. I am very grateful to producer David Richardson for giving me the opportunity to play with these new toys, and the indefatigable director Ken Bentley for all his advice and guidance over the years.
"UNIT may have taken a temporary leave of absence from the current TV Whoniverse, but rest assured, there are still plenty more stories to tell as our audio UNIT chronology moves into the era of the Twelfth Doctor, with two Osgoods to defend the Earth against an ever-increasing array of enemies. I'm passing the military baton to the eminently well-qualified Andrew Smith, who will carry UNIT's remit forward splendidly, I'm sure."