1.6. Blake's 7: Caged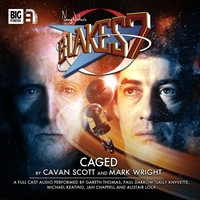 Released June 2014


Prices
CD
US $6.64
Download
US $5.00

Web Special Price!


Synopsis
Roj Blake and the President of the Terran Federation stand face to face.
Two men with polar opposite political views, meeting for the first and last time.
The long crusade is at an end. And Blake stands to lose everything that matters in his life...
Written By: Mark Wright and Cavan Scott
Directed By: Ken Bentley
Cast
Gareth Thomas (Roj Blake), Paul Darrow (Kerr Avon), Michael Keating (Vila Restal), Jan Chappell (Cally), Sally Knyvette (Jenna Stannis), Brian Croucher (Travis), Alistair Lock (Zen/Orac), Hugh Fraser (The President)
Producer David Richardson
Script Editor Justin Richards
Executive Producers Jason Haigh-Ellery and Nicholas Briggs