239. Iron Bright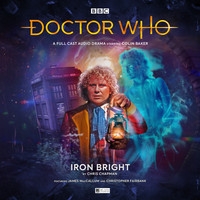 Released June


Prices
| | |
| --- | --- |
| CD | US $19.65 |
| Download | US $12.99 |

Synopsis
This title was released in June 2018. It will be exclusively available to buy from the BF website until July 31st 2018, and on general sale after this date.
'This is an historical Doctor Who tale done right. You get a real life event that is given justice by the script in its telling with a Doctor Who twist weaved into it seamlessly. 8/10.' Indie MacUser
It's London, 1828, and the father-and-son team of Marc and Isambard Kingdom Brunel are masterminding a dangerous project - the digging of the Thames Tunnel. There's just one problem...
The Brunels' tunnel is haunted. Every night, a spectral blue lady walks the excavation.
Now, the 22-year-old Isambard, eager to step out of his famous father's shadow, finds himself dealing with not only the supposed supernatural, but a second unexpected guest - a colourful trespasser who calls himself 'The Doctor'.
Isambard would like to know a great deal more about this strange man and his mysterious blue box...
Written By: Chris Chapman
Directed By: John Ainsworth
Cast
Colin Baker (The Doctor), James MacCallum (Isambard Kingdom Brunel), Christopher Fairbank (Marc Brunel), Catherine Bailey (Tan), Imogen Church (Rispa / Lady Raffles), Becky Wright (Flo Hawkins / Alayna), Anthony Townsend (Richard Beamish / John Chubb), Sam Woodward (Charlie / Lord Raffles / Captain Sanderson), Richard Unwin (Tour Guide / Scientist). Other parts played by members of the cast.
Producer John Ainsworth
Script Editor Alan Barnes
Executive Producers Jason Haigh-Ellery and Nicholas Briggs