171. The Seeds of War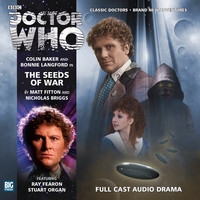 Released March 2013


Prices
| | |
| --- | --- |
| CD | US $19.78 |
| Download | US $12.99 |


Synopsis
'A breath-taking, humbling triumph…' Tim Mass Movement
Humanity is emerging from a long, exhausting war. Against an enemy so powerful, so implacable, it seemed unstoppable – right up until the moment it stopped.
Now, despite its 'victory', the human race is on its knees. The Doctor and Mel join its struggle for survival to try to ensure it has a future.
A race against time takes them from the Great Tower of Kalsos to the Reliquaries of Earth. In an epic journey across the ten systems, their fates are intertwined with one family. The Tevelers are to feel the effects of war more than most…
The Doctor has a plan. Mel is sure he can save the day. But something is lurking. Watching. Waiting. A presence the Doctor knows of old. But just how far does its influence pervade?
The Eminence awaits…
Written By: Matt Fitton and Nicholas Briggs
Directed By: Barnaby Edwards
Cast
Colin Baker (The Doctor), Bonnie Langford (Melanie Bush), Ray Fearon (Barlow Teveler), Ony Uhiara (Sisrella Tevier), Stuart Organ (Helgert Teveler), Lucy Russell (Trellak), John Banks (Elkinar), Beth Chalmers (Announcer), David Sibley (The Eminence)
SUBSCRIBERS GET MORE AT BIGFINISH.COM...
A twelve or six month subscription to the main range means you pay 30% less.
12 month CD subscription = £130
12 month download subscription = £109.
If your subscription includes a December release up to 2013, you get a free subscriber special release (December 2012's subscriber special was Night of the Stormcrow, starring Tom Baker and Louise Jameson).
You'll be able to download, for free, at least four subscriber special audiobook Doctor Who releases a year.
You'll be able to download a free PDF of the production's script. These will appear in your account when they are made available, typically after the release date.
You'll be able to download extra behind-the-scenes audio material. This will appear in your account when it is made available.
With a 12-release subscription, you will be entitled to choose a free single-disc CD under £10.99 from any of our ranges, and you will be entitled to a discount of £5 off subscriptions to other ranges.