181. Afterlife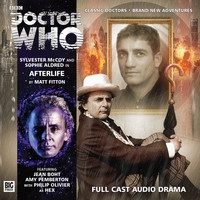 Released December 2013


Prices
| | |
| --- | --- |
| CD | US $19.74 |
| Download | US $12.99 |


Behind the Scenes
(Excerpt from Vortex issue 58, click here to DOWNLOAD)
Life Stories
Philip Olivier (Hex) and Amy Pemberton (Sally) try to avoid spoilers as they talk to Paul Spragg about their return to the main range in Afterlife
Did either of you believe you'd be back after your last story?
PO: After reading the last script, Gods and Monsters, I was thinking, 'Oh no! What's happened here?' So I was delighted when I heard that the script was coming through the post.
AP: No, I actually didn't, to be honest! I was like, 'I'm blatantly not going back for ages – if I do go back.' So I was really excited when I got the call because I love coming in to do these, so yeah, I was excited.
As long as you're not feeling unwanted.
AP: Well, I was, but I'm over it now. I had the lunch! Everyone always talks about lunch. I had a huge lunch. Because you have to try everything that's there; I had a massive plate and ate it all.
PO: That's the only reason I've come down this year! Everyone says that, though, don't they? Lunch is unbelievable.
You've got a great guest star in this one.
PO: Jean Boht plays my nana! I was so over the moon, man. Liverpool legend!
How was she?
PO: Unbelievable. Instantly recognisable, you know? She played a great character. She just lifted the words from the page because she's brilliant. She's really eccentric and then she goes into this 'Mrs Bucket' [from BBC comedy Keeping Up Appearances] posh accent when the Doctor's about, and it gives a bit of depth to the character. I thought she played it brilliantly and it's a pleasure to work with people like that.
Have you missed Sylvester McCoy (The Seventh Doctor) and Sophie Aldred (Ace)?
PO: Yeah, I have actually. I think the last time I saw them was at the Chicago [TARDIS] convention.
How do you feel about your respective characters at this point?
PO: I love the character Hex. I love the fact that he's inquisitive, he's a bit slow but he's picking things up, he's got a great heart. I think the chemistry that Hex and Ace have got, the dynamic of those two, is brilliant, especially when Sally comes in. I like the flirting to do with that. Every time I come back there's something new and something fresh to do. And the beauty about audios is it's not constrained by budget; on TV and films you're constrained by what you can do with CGI, but with audios the stories are great because you can just go as far as you want with it. I love coming back every time to do this.
AP: I really like this time, purely because you feel like you've established yourself a bit more after the trilogy that I did, and then just reading it I felt like she's a bit more settled in herself and her place with the Doctor. When Sally and the Doctor come back together, I think they're on a different level. Rather than trying to impress constantly, now he's going, 'Why have you come back, what are you doing here?' and she's doing a little investigation and finding loads of stuff out, so it's not waiting for him to tell her what to do, she's going off on her own and doing her own thing, which is probably what she should have done before. Well, she would have done, but not without the Doctor saying something. It made me sad, though, reading it. I can't say [why], I don't want to ruin it!
Have you both listened to your previous stories?
PO: I never used to when I started, but I remember Sylvester said you should always go back and listen because you get to see what happens in post-production and get to see the final effects and I think it really does help.
AP: When I went over to Chicago, I put them all on my iPod and I listened to them on the way over because you never hear what everyone else does; you hear your bit and you've read it and you know what happens, but when you hear everything together I think it's brilliant. And I don't listen to audio stuff that much, and it's made me want to listen to more. You just get completely absorbed in it. I think that's why people love it, you know? You can just imagine what's going on; that's the beauty of audio, isn't it, you're not just watching and being shown it, you've got to have your own thing in your head.
Does listening to those older stories change how you approach your performance?
PO: Yeah, obviously. You haven't got the visuals for someone to see your face, so the only tool you've got is your voice and when I first started, this was my first audio job and I didn't really realize. The Big Finish team have taught me so much here. I think that's one of the greatest tools, to listen back, as sometimes you think you're doing certain things with your voice and it doesn't really come across. So unless you listen, you won't learn.
AP: I think you have your initial thing about a character, don't you, and then things change with how the character changes. I was in different [Big Finish] parts before I started House of Blue Fire, but it's been nice to concentrate on one character and find a few more things. I've not been here for a year and a half, and I was like, 'I've got to find her voice again', so I was listening to it before I came back in going, 'Okay, that's the kind of tone and voice where she was last at'; I think she's a bit more confident this time round.
Where can we see you next?
PO: There's a thing called The Spa which is coming on to Sky Living at Christmas; it's a Christmas special. I just got on Benidorm, so that's out in January. That's a couple of things you can catch me up on; otherwise, just go to philipolivier.com!