240. Hour of the Cybermen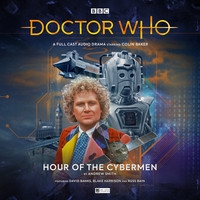 Released July 2018


Prices
| | |
| --- | --- |
| CD | US $19.33 |
| Download | US $12.99 |

Behind the Scenes
HOUR OF THE CYBERMEN SOUND AND MUSIC NOTES - from the talented Steve Foxon
"Once I learned I would be doing the Sound and Music for 'Hour of the Cybermen', I knew I had to try a capture the feel of the music from the era. This isn't always the case with the monthly range, but this was the original 80's Cybermen in a story set in the 80's, so it just seemed right.
"I have a few hardware Synthesisers from the 1980's and 90's and so thought it would be ideal to use all hardware rather that software recreations or samples, as the sound (at least to my ears) would be more authentic. I have a Yamaha TX7 (non-keyboard version of the classic DX7) which is a digital FM Synth that was released in 1983, so would have been available at the time. Whilst I couldn't find a definitive list of what Malcolm Clarke would have used, it certainly is able to produce very similar sounds to his.
"Secondly, I opted for a Oberheim Matrix 1000 synth, which being fully Analog is similar sounding to what the Radiophonic Workshop would have been using. I then spent a long time going through 100's of sounds on each synth, listening for ones that would possibly be useable. Prior to doing this, I watched 'Attack of the Cybermen' to get a feel for the music, but also just used my memory of how I recall it sounding in that era.
"I narrowed the list down to around 30 for each synth, and labelled with notes such as 'Distorted Cyber', 'Classic DW 5th Synth', 'Danger pad', 'Synth Brass', 'Sad strings' etc. Certain sounds just leant themselves perfectly to defining the Cybermen, such as the classic distorted Bell chime. I ended up using about 15 sounds in total across both synths.
"I did also cheat a little with use of a modern synth; actually part of a modular Eurorack system, which is all analogue and allows patching the modules in any way you want using patch leads. This is similar to the large Analog synths of the 70's and would be like those available to the Radiophonic Workshop at the time. For the music, I just used a Spring Reverb tank; ordinarily used for putting sound through to add reverb by way of vibrating small springs, but in this case I scraped the springs and then added delay and reverb to that sound. This gave an excellent metallic atmospheric sound which leant itself perfectly to some of the Cybermen heavy scenes.
"Speaking of Reverb & Delay, I didn't really want to resort to software for those either, which led me to a bit of research and then a couple of eBay purchases of devices from the mid 80's. I got a Yamaha R100 Reverb Processor and a Boss RDD-10 Digital Delay. The latter having a great tone dial which, in conjunction with the Feedback amount, led to some great crescendo's at the end of some scenes!
"With regards to the Sound Design, I tried to stay within a similar feel to that of Attack of the Cybermen, but brought up to date to be better suited to digital listening. This mainly involved the previously mentioned Modular Synth, patching it to create weird & wonderful sounds, such as the energy weapon used by the Cybermen for evaporating water. I also used it to create sounds like Computer Beeps, Background humming, Controls & Alarms.
"All in all, I invested more time in to this release than any I previously worked on, but the wonderful script by Andrew Smith certainly deserved it. In addition, these are 'my' Cybermen and so it had to sound extra special. It was in the end, an absolute joy to work on, and I am very pleased with the end result!"