2.01. The Auntie Matter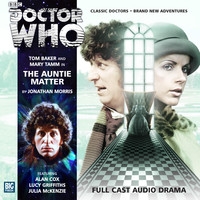 Released January 2013


Prices
| | |
| --- | --- |
| CD | US $14.62 |
| Download | US $8.99 |


Behind the Scenes
GOING FOURTH AGAIN
Producer David Richardson previews the second series of Fourth Doctor Adventures, starring Tom Baker and Mary Tamm

Is it really a year since Tom Baker made his debut as the Fourth Doctor at Big Finish? In some ways it seems like only yesterday… in others, it seems like a lifetime ago. And so much has happened in between – most of it good, a little of it sad.
Before we launch into a full preview of season two of The Fourth Doctor Adventures, it seems fitting to talk about Mary Tamm, who eagerly embraced the opportunity to return as Romana for this series. "Nothing will keep me away," she told me when I first approached her, and she was true to her word. Even cancer, and months spent enduring treatment, didn't quell Mary's passion for the project. We, as colleagues and as fans, are indebted to her for seeing the series through, under awful circumstances. She came to every studio recording full of enthusiasm, laughed endlessly, and – on the last day I saw her – told me that doing the recordings had helped her get through it. She was a fantastic lady, and this season is dedicated to her.


2.1 THE AUNTIE MATTER
Written by Jonathan Morris
Directed by Ken Bentley
Guest stars: Julia McKenzie, Robert Portal, Lucy Griffiths, Alan Cox
A glorious romp to open the season, in which Jonathan Morris channels PG Wodehouse in a tale of lovelorn young Reggie (Robert Portal) and his sinister Aunt, who might just be from another planet. Tom and Mary adored this script – Mary particularly, as it really brings Romana to the fore in a way, perhaps, that her TV episodes didn't.


2.2 THE SANDS OF LIFE
Written and directed by Nicholas Briggs
Guest stars: Hayley Atwell, David Warner, Toby Hadoke
Here's a bit of an exclusive… we have a bonus surprise for you! The Sands of Life will actually be three episodes long! Now, before you cry 'Why can't they all be three episodes long!' I should point out that it's a budgetary thing, and on this one occasion we were able to pull an extra episode out of the hat. So it's a special one-off…
And what a one-off it is. A power-crazed businessman, a race of space-borne aliens and a new
Earth President come together to provide deadly new challenges for the Doctor, Romana and K9. Yes, K9 – here making his debut in the range, played by the wonderful John Leeson. It's good to have him back. The season 16 reunion is complete.


2.3 WAR AGAINST THE LAAN
Written and directed by Nicholas Briggs
Guest stars: Hayley Atwell, David Warner, Toby Hadoke, Hugh Fraser
We're still in the far future, and the Laan have become a threat to the world. War Against the Laan continues the story established in The Sands of Life… meaning that, together, they make up a five-episode blockbuster. It's our longest Fourth Doctor tale since The Foe From the Future in the Lost Stories range. If you like an epic, then this one is for you!


2.4 The JUSTICE OF JALXAR
Written by John Dorney
Directed by Ken Bentley
Guest stars: Christopher Benjamin, Trevor Baxter, Adrian Lukis
In many ways, it was an obvious choice to reunite the Fourth Doctor with Victorian investigators Jago and Litefoot, over three decades after they appeared together in The Talons of Weng-Chiang. So, not wishing to be entirely obvious, we brought Romana into the mix – what will this very sophisticated Academy graduate make of Henry Gordon Jago, as they are paired up to face a deadly steam-powered robot that is murdering on the streets of London?
This one was so much fun to make. The actors were in their element – Tom clearly adored the chance to work with Christopher and Trevor again – and the day whizzed past far too quickly. I wanted to relish every moment.


2.5 PHANTOMS OF THE DEEP
Written by Jonathan Morris
Directed by Ken Bentley
Guest star: Alice Krige
I gave Jonny Morris a firm brief for this story: The Auntie Matter had been a fun romp, so I wanted him to deliver the polar opposite with his second script – to be dark and scary. And he hasn't disappointed with this claustrophobic tale in which the TARDIS lands on the ocean floor, and meets a scientific expedition that has uncovered a terrifying presence. This is one to listen to with all the lights off.
I was especially pleased to book Alice Krige (Star Trek: First Contact, Spooks) for the lead guest role in this story. And even more pleased to discover she was one of the most warm and kind actors I've ever met. I do hope she'll return one day.


2.6 THE DALEK CONTRACT
Written and directed by Nicholas Briggs
Guest stars: David Warner, Toby Hadoke, Dominic Mafham
You might just recognize a couple of the guest names on this one… Mr Warner and Mr Hadoke are back, as a story arc that began in The Sands of Life kicks back into gear. This time, the Daleks are along for the ride – and they have some deadly surprises up their sleeves (if, of course, they had sleeves).


2.7 THE FINAL PHASE
Written and directed by Nicholas Briggs
Guest stars: David Warner, Toby Hadoke, Dominic Mafham
The big season finale, in which our recurring story arc comes to a spectacular close. The Dalek plan is revealed, and the stakes have never been higher… I remember that we recorded this one in February, when the country was knee-deep in snow – somewhat ironic, as the story is set on a planet that is covered in snow. So at least the studio photos look quite fitting!