200. The Secret History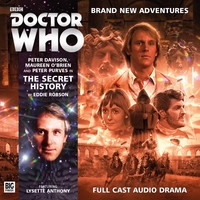 Released June 2015


Prices
| | |
| --- | --- |
| CD | US $18.97 |
| Download | US $12.99 |


Behind the Scenes
Writer's Notes
Spoiler Below! We strongly recommend listening to the full story before reading!
Anyone who knows me knows of my love for Hartnell-era Doctor Who. I'm fascinated by 60s TV – that point where it's morphing from theatre-with-cameras-pointed-at-it to a distinctive medium in its own right – and it was those early years of Doctor Who that brought me there. The crackling atmosphere of wildly overambitious drama being performed in too little space and too little time; the sense that the boundaries of Doctor Who had not yet been set, and it was discovering itself as it went along. And then there's the man himself. Maureen O'Brien described it best: he was an actor who'd spent much of his career playing small, petty men, and with Doctor Who he got the chance to play a big character.
Hartnell has long been one of my two favourite 20th-century Doctors – the other being Peter Davison. And I think Steven and Vicki are the most underrated companion team, as their rapport in the wonderful The Time Meddler demonstrates. So when I was offered the chance to write a Hartnell-style historical, with Peter as the Doctor, joined by Peter Purves and Maureen O'Brien, facing off against the Meddling Monk... I couldn't have written myself a more enticing brief.
I tried to balance a lot in this. It's a tribute to all the different types of Hartnell historical, influenced the brutal, lyrical work of John Lucarotti and David Whitaker, but also the more comical, playful travelogues of Dennis Spooner and Donald Cotton. I chose 6th-century Constantinople as the setting because I'd just been to Istanbul and learned something of its fascinating history, and also it felt like the kind of place the Hartnell historicals would have gone to but didn't. (In terms of time and space, it's between Marco Polo and The Romans). And then... well, it's also a Davison story, that's all I'll say. And it becomes more of one as it goes along.
Eddie Robson, 2015
Twitter: @EddieRobson