202. The Warehouse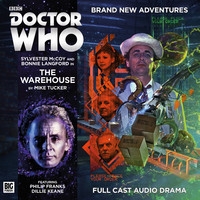 Released August 2015


Prices
| | |
| --- | --- |
| CD | US $19.30 |
| Download | US $12.99 |


Behind the Scenes
Writer's Notes
The Seventh Doctor's first season is very much one of change. With a shortened season run, a new Doctor, a new script editor, new writers, and ultimately a new companion, it is really only the two stories tucked in the middle of the run that give any indication of what the relationship between the Doctor and Mel could be like.
Having been asked by Big Finish to submit a script idea for one of three new stories set in that era, I was very clear that I wanted write something that could easily have been plucked from that period in the shows history – a gentle, comedic and slightly unsure version of the Seventh Doctor, not the dark, Machiavellian schemer that the show and subsequent spin-off novels would turn him into.
I had the advantage that I had worked as an effects assistant on several of the stories of Sylvester's first season, and having gone back and re-watched them, it struck me that the settings of stores like Paradise Towers, Delta and the Bannermen and Dragonfire were all integral to the feel of those shows: a tower block, a holiday camp, a freezer centre.
Having followed on from that theme, and pitched an idea set in a huge Amazon-like warehouse floating in space, the setting immediately started to suggest characters and plot, and ways of spinning things of in a slightly satirical direction. Big Finish script editor Alan Barnes – who proved extremely generous with splendid ideas of his own – encouraged me to go much further with some of those ideas than I had originally intended, but that only served to further cement the story in the era that it was meant to be set.
The setting also gave rise to the 'monsters'– the mould and the vermin. The original plan had actually been to have the warehouse infested with a mutant form of cockroach, but, as is often the case, another writer had been making a case for that particular life form as the monster in another audio, and so the rat-like Muroids were created a last minute replacement.
Having written so many stories for the pairing of the Seventh Doctor and Ace, I was initially wary of writing for Mel, particularly given the less than sympathetic way that she had occasionally been presented on television, so it was delightful to find the easy friendship that the character shares with the seventh Doctor coming to me very easily once I had reacquainted myself with Bonnie's performance.
One thing that I was determined to do was actually give Mel something to do, preferably linked to her much vaunted skills as a computer programmer – albeit a computer programmer from the 1980s.
The end result was a set of decidedly old-fashioned scripts, but ones that I hope carry the listener back to a version of 'Doctor Who' produced in a slightly more innocent time. Certainly my day spent at the studio felt like going back in time, with Sylvester and Bonnie sounding no different that they had when I first worked with them.
For me The Warehouse is a return to the world of Big Finish after a fifteen-year absence, and it's been surprising to find how far the universe that Big Finish has created has expanded whilst I've been away.
That is very exciting in terms of where I can go with my next story.
To quote the most famous producer from the era. Stay tuned.
Mike Tucker, 2015