8. UNIT - Incursions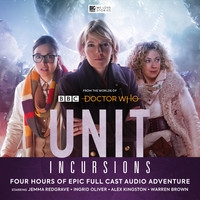 Out in April
Prices
Pre-order CD
US $29.53
Pre-order Digital
US $20.00

Web Special Price!


Synopsis
Kate Stewart and her UNIT team investigate and confront alien attacks on the planet Earth in this new 5 disc boxset.
This Sleep of Death
by
Jonathan Morris
Tempest
by
Lisa McMullin
The Power of River Song
(a two-part story) by
Guy Adams
More details to follow.
Deploying April 2019
Directed By: Ken Bentley
Cast
Jemma Redgrave (Kate Stewart), Ingrid Oliver (Osgood), James Joyce (Josh Carter), Warren Brown (Sam Bishop), Alex Kingston (River Song)
more details to follow
Producer David Richardson
Script Editor TBA
Executive Producers Jason Haigh-Ellery and Nicholas Briggs