We love StoriesBig Finish produce great full-cast audio drama for CD and download, featuring many popular television fantasy series.
20 March 2016
Catch up on all this week's news and releases from the worlds of Big Finish!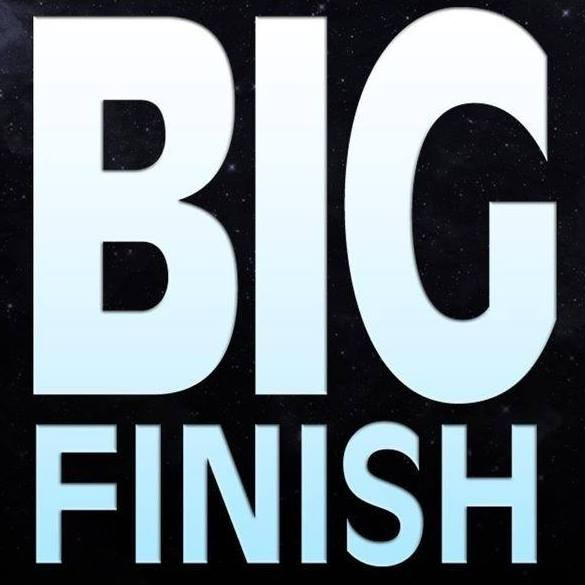 It's been another busy week at Big Finish, with two new releases and multiple updates from the other corners of the Doctor Who Universe.
We start our round-up by joining in the celebrations for Dark Shadows' 50th Anniversary! The iconic horror series is a half century old this year, and we've begun the party with special offers across the entire Dark Shadows range, with prices starting from just £1.99!
If you're having trouble choosing one of over sixty titles currently on offer, why not check out the Big Finish team's list of recommendations. And if you've never heard the series before, click the Sound Cloud player below to hear Dark Shadows: Bloodlust Episode 1 for free. You can even download your own copy to keep here; it's the perfect treat for a Sunday afternoon!
Click here to explore all of our Dark Shadows offers, with special bundles also available. But hurry: these offer must end noon Monday 21st March (UK time).
We move from fantasy to real-life horror with our next title, the pure-historical Doctor Who Main Range release Doctor Who: The Peterloo Massacre.
Written by Paul Magrs, this terrifying adventure for the Fifth Doctor (Peter Davison), Nyssa (Sarah Sutton) and Tegan (Janet Fielding) takes place on one of the darkest days in Manchester's history, pushing our heroes to their very limits! Download your copy today; and remember, when you choose to buy this release on CD directly from Big Finish, you will also unlock instant access to a digital copy for download.
Our next release features a lighter take on time travel in Jonathan Morris' Doctor Who – The Fourth Doctor Adventures: The Paradox Planet.
Featuring rampaging Time Tanks, mad scientists and a planet at war with its own future, this new story stars Tom Baker, Lalla Ward and John Leeson alongside Tom Chadbon, appearing opposite his City of Death co-stars as Embery. You can buy your copy today, or subscribe to the series here.
Next we head back through the Big Finish timeline for an upcoming re-release. Cyberman: The Complete Series 1 & 2 collects all eight episodes of our popular mini-series, featuring Kit Pedler and Gerry Davies' classic Doctor Who monsters.
Packaged together with a bonus-disc of special features, the new set can be pre-ordered now for just £25 on CD or £20 to download. The remaining individual episodes of Series 1 have also been reduced to just £2.99 on CD and download while stock last. You can also download to the first episode Cyberman: Scorpius for free, using special a code sent out in our free Big Finish newsletter. Sign up today!
The new collection will be officially launched and available to buy from Big Finish at Tenth Planet's Day of the Cybermen event on May 14th 2016, celebrating 50 years of the classic monster. Click here for more information.
More spin-off fun can be found in the new trailer for Torchwood: Ghost Mission. Sergeant Andy (Tom Price) may finally have his chance to join Gwen Cooper's new team – but first he needs to impress the Torchwood Assessor Norton Folgate (Samuel Barnett)... who just so happens to be a ghost!
Torchwood: Ghost Mission is available to pre-order today either individually, or as part as our specially discounted Torchwood: Series 2 subscription, available for just £45 on CD or £40 to download until March 31st 2016. Other future titles include the return of Naoko Mori as Toshiko Sato in Torchwood: Zone 10 and Indira Varma as Suzie Costello in Torchwood: Moving Target. Visit the range page for more information.
We've also been treated to a glimpse at the next case for the world's other clandestine team of investigators: Counter-Measures.
The New Counter Measures Special: Who Killed Toby Kinsella? will be released in June, and features the return of Group Captain Gilmore (Simon Williams), Rachel Jenson (Pamela Salem), Allison Williams (Karen Gledhill) and Sir Toby Kinsella (Hugh Ross) for the first time since the shocking events of Counter-Measures: Series 4.
This two episode special has been written by John Dorney and Ken Bentley, and will forge a new era for the taskforce which first appeared in the classic Doctor Who story Remembrance of the Daleks. The New Counter-Measures: Series 1 will follow in December 2016 and both releases can be pre-ordered as part of a special bundle.
The first four Counter-Measures box-sets are still available to order from the Big Finish website, with the team also appearing in the prequel story Doctor Who: 1963 – The Assassination Games.
And finally, we've been treated to a first glimpse of the eagerly anticipated Survivors: Series 4 with an all new trailer. More information on this new instalment of the Terry Nation classic will be coming soon...
That's all for this week, but join us soon for more great releases: including Sophie Aldred in Doctor Who – Short Trips: Washington Burns. Listen to a preview below, and pre-order your copy for just £2.99!