For The Love Of StoriesBig Finish produce fantastic full-cast audio dramas for CD and download.
Blake's 7 - Restoration and Uprising
8 January 2019
The beginning of a new Blake's 7 saga starts today with the release of Blake's 7: Restoration Part 1. Plus Uprising, a new novel, eBook and audiobook set during series two of the classic television series, is also out today.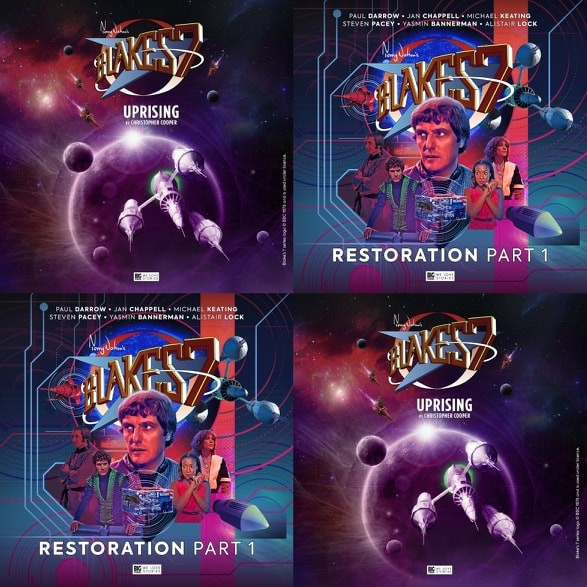 Out now is the opening chapter of Restoration, a new series of Blake's 7 adventures. Paul Darrow, Jan Chappell, Michael Keating and Steven Pacey all return to their roles from the classic TV series, while Alistair Lock provides the voices of computers Orac and Zen, and Yasmin Bannerman plays the role of Dayna.
5.1 Damage Control by Trevor Baxendale
Damaged beyond repair, the Liberator is hurtling out of control. With Zen down, Avon injured and Tarrant losing his mind, what can the crew hope to achieve in the time they have left?
5.2 The Hunted by Iain McLaughlin
In a stolen ship, Avon and Vila try to hold off a fleet led by the President of the Federation, buying time for Dayna, Tarrant and Cally to scavenge parts to save the Liberator.
5.3 Figurehead by Scott Harrison
With the Liberator crippled and vulnerable, Tarrant and Cally are given just twenty-four hours to end the violence on Gamma Vynos II or kill the person responsible: Avalon.
5.4 Abandon Ship by Steve Lyons
The Liberator is falling apart. Its life support systems are failing. The ship can no longer sustain five crewmembers. But who will stay and who will leave? Both options seem equally deadly...
Producer and director John Ainsworth tells us more in this month's Vortex magazine: "The focus of the previous series, Crossfire, was an epic conflict between Servalan and the Old President, with the crew of the Liberator caught in the middle. Restoration is more about a situation specific to the Liberator, and how the crew deal with it… about how they deal with the possibility of life without the Liberator, and it raises questions about the bonds that keep them together."
Restoration Part 1 is available now, with Part 2 released in July 2019 and the concluding Part 3 in November 2019. Each release is currently available from Big Finish at the pre-order price of £28 on CD or £25 on download.
Or you can save money with a bundle. Get all three parts of Restoration on pre-order in a bundle at £78 on CD or £72 on download. And don't forget each CD purchase unlocks a download option from the Big Finish app or directly from our website.
Also out today is the novel, eBook and audiobook Blake's 7 – Uprising, written by Christopher Cooper and narrated by Stephen Grief.
Blake persuades the Liberator crew to join an uprising on the planet Istria, a vital supplier of food to the Federation. He hopes to hit the Federation where it hurts – and send a powerful message of unity to rebel groups everywhere. But with the odds stacking up against him, and Space Commander Travis in hot pursuit, even Blake starts to wonder who he can trust. Is he right to put so much faith in the Istrian rebels and their mysterious hired mercenary? It's clear that Jade is a deadly killer a secret past, but what is her hidden agenda – and how has Gan fallen so completely under her spell?
Writer Christopher Cooper tells us more in this month's Vortex: "It's a thrilling adventure with plenty of twists and turns, and I hope they (the readers) will be thoroughly entertained. If nothing else, they'll get to spend some quality time with the original Liberator crew – as dysfunctional a group of characters that has ever graced a television drama, and who remain as fascinating and vital today as they were 40 years ago."
Another interview with writer Christopher Cooper is available here -> https://www.bigfinish.com/news/v/blake-s-7-book
Blake's 7: Uprising is available on hardback at £16.99, as an eBook at £12.99 and as an audiobook at £9.99.
And for fans of Blake's 7, you can get both The Spoils of War at £18 on download, and the book and full cast audio version of Warship at just 99p each!
Head to page https://www.bigfinish.com/offers/v/bookclub and use access code STORIES to get these releases on their offer code special prices.