For The Love Of StoriesBig Finish produce fantastic full-cast audio dramas for CD and download.
News updates - week commencing 03 May 2021
3 May 2021
Check here for this week's news updates from Big Finish Productions.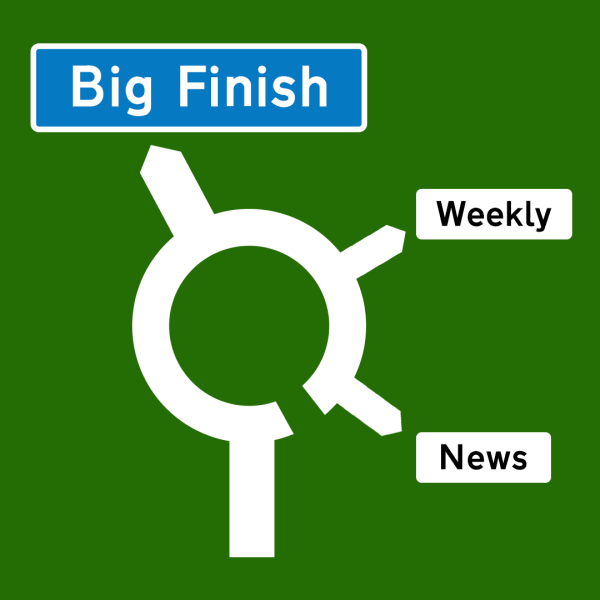 [Last updated 06 May 2021.]
Monday 03 May
◉ FLASH SALE | Marking what would have been Paul Darrow's 80th birthday, hear a free extract from his autobiography, You're Him, Aren't You? or download the audiobook for up to 60% off here (until 23:59, UK time, 5 May 2021).
◉ PODCAST | Nick and Benji present: Guinness World Record… Reviews: Blake's 7 Chosen, Sixth Doctor Plight of the Pimpernel… Behind-the-scenes: The Avengers Comic Strip Adaptations Volume 5… Drama Tease: Iris Wildthyme and Friends - Fellowship of Ink (Louise Jameson). Wrap your ear things around the latest free download, available here or wherever you get your podcasts.
Tuesday 04 May
◉ LIMITED EDITION SALE! Click HERE for up to 66% off selected releases from Doctor Who and Captain Scarlet and the Mysterons! (Ends 23:59, UK time, 7 May 2021.)
◉ GOODY BAG DEALS! Get up to 60% off selected Iris Wildthyme adventures on collector's edition CD and digital download HERE until 23:59, UK time 9 May 2021.
◉ TO THE POLLS! To celebrate Big Finish's 275 Doctor Who: The Monthly Adventures RadioTimes.com will be holding a series of polls to find the fan favourites! WATCH THE VIDEO and find out more HERE and cast your vote for your fave Fifth Doctor release HERE!
◉ SHIPPING UPDATE | Due to factors beyond our control, we are currently experiencing supply issues from the EU. As a consequence, certain collector's editions are delayed as detailed below. We are sorry for any disappointment.
Doctor Who: Dalek Universe 1 (Limited Vinyl Edition)
Doctor Who - Time Lord Victorious: Echoes of Extinction (Vinyl Edition)
In addition, the following releases were slightly delayed but are now being dispatched as an urgent priority.
Torchwood: Lease of Life collector's edition CD
Doctor Who: Dalek Universe - The Dalek Protocol collector's edition CD
Doctor Who: The First Doctor Adventures Volume 05 collector's edition CD
We apologise for the delays. Please note: if you have purchased any collector's or limited editions from this website, the digital download edition will be available in your account.
Wednesday 05 May
◉ OUT NOW! Louise Jameson narrates Iris Wildthyme and Friends: Fellowship of Ink. Download it HERE!
◉ CAST AND STORY INFO! There's more murder and mystery ahead for Holmes and Watson! Click HERE to find out more about The Seamstress of Peckham Rye!
Thursday 06 May
◉ NEW DETAILS! It's Time Lord VS Time Lord for Colin Baker and Mark Bonnar in September's The Eleven. Find out who will be joining and them and what's in store HERE!
Friday 7 May
◉ TRAILER! Click HERE for a first listen to the Blake's 7: Avalon 1 trailer! Pre-order it now from just £16.99!
◉ COVERS AND CAST! Cast details and stunning new individual covers have been revealed for Dalek Universe 2! Click HERE to check them out and read about who will be joining the Tenth Doctor!