47. Omega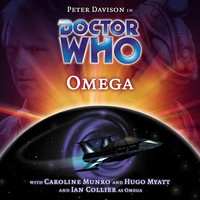 Released August 2003


Prices
Download
US $2.99

Web Special Price!



Behind the Scenes
LISTEN AGAIN: OMEGA
Kenny Smith revisits the Fifth Doctor's encounter with an old Time Lord foe in Omega!

Bringing back old enemies is always a popular move with Big Finish fans. Big Finish released Omega as monthly play number 47 in August 2003, as part of the fortieth anniversary celebrations, reuniting Peter Davison with his Arc of Infinity co-star Ian Collier, who sadly died in 2008.
It was Nev Fountain's first play for Big Finish, and he said: "The Three Doctors has such imagination, humour and flair to it – it is such an underrated script, and Bob Baker and Dave Martin are underrated writers – and Omega is such a good creation. In Arc of Infinity Johnny Byrne injects pathos and sympathy in Omega and makes him a far more interesting character.
"I love Arc for the same reason I was excited about writing for the Fifth Doctor versus Omega. They are so well matched, because Omega isn't a particularly good villain, and the Fifth Doctor isn't a particularly good hero. They never quite match up their words to their deeds, which appeals to me.
"It struck me from watching Three Doctors and Arc of Infinity how Omega scales down his ambitions and his plans each time we meet him – from destroying the universe to just existing in the universe. I scale them down still further – he's preoccupied by how the universe will remember him. A lot of it's about history, and like Jubilee, it's the perception of history, and how easy it is for history to distort how you remember characters and people."
Joining the cast for his Big Finish debut was actor Conrad Westmaas, who made such a good impression on producer Gary Russell that it led to his casting as the Eighth Doctor's companion C'rizz.
He said: "There's a real sense of fun underneath it all and Nev's knockabout Hitch Hiker's-style treatment somehow feels right for a villain who seems to struggle to find his place in Time Lord history.
"Taken in the right spirit, there are some chuckles to 
be had in hearing his story told via amateur reenactments, half-baked myths and talking action figurines and there's some poignant and grisly stuff in there too and plenty of nuggets of Gallifreyan history in the mix with references
and flashbacks to Rassilon, the Hand of Omega and 
TARDIS graveyards.
"I'll always have a soft spot for this story as it was my first introduction to the bonkers world of Big Finish and brings back happy memories – the brilliant Hugo Myatt, the very glamorous Caroline Munroe, and being able to feel the late Ian Collier's deep, booming voice rumbling in the floor whenever he spoke. Carry On actress Faith Kent completely steals the show with her beautiful delivery of her few lines – pure class."
Nev added: "Ian Collier's performance was utterly amazing. What a voice! I still get goosebumps just listening to the trailer, when this unmistakable rumble comes through the speakers talking about Peylix. There are two reasons why this story belongs to the world of audio, and the other reason was his fantastic voice. I am so glad he managed to return to the part one more time."
Chronological Placement
This story takes place between the television adventures, Arc of Infinity and Snakedance.