6.08. The Selachian Gambit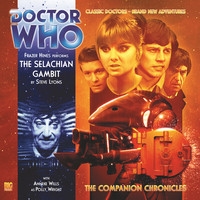 Released February 2012


Prices
| | |
| --- | --- |
| CD | US $11.57 |
| Download | US $7.99 |

Behind the Scenes
CHRONOLOGICAL PLACEMENT:

This story takes place between The Macra Terror and The Faceless Ones.
David Richardson on The Selachian Gambit
"I'm very fond of these Companion Chronicles that feature two companions. We couldn't do them all the time, just because of the budget, but I can wangle them every now and again and I think The Selachian Gambit shows a companion pairing of the best kind.
"I'd enjoyed the Selachians in The Architects of History, and thought they'd work well in a narrated story. And I figured with Frazer playing Jamie, doing his Doctor impersonation and playing the Selachians too, we were on our way to a full cast played by him. As I jokingly said to him afterwards, we got our money's worth!
"Both Frazer and Anneke are terrific in this, and I think Alistair Lock did some amazing sound design and music. It sounds just like a soundtrack from Doctor Who in the mid-1960s. I'm actually currently listening to Patrick Troughton's first season on audio, and I think this would fit in seamlessly."