167. The Shadow Heart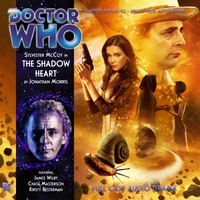 Released November 2012


Prices
| | |
| --- | --- |
| CD | US $19.33 |
| Download | US $12.99 |


Behind the Scenes
THE THRILL OF THE CHASE

Dan Tostevin chats to new spin-off star Chase Masterson about her first appearance as glamorous bounty hunter Vienna Salvatori in this month's The Shadow Heart

Hello Chase. How did you come to be working with Big Finish? The casting announcement on the website said you got the job through Frazer Hines, which is kind of a weird connection.
It is! I met Frazer – along with a very well-loved Doctor Who author, David Howe, and Sam Stone, author of The Vampire Gene – at a convention [GalaxyFest 2012] in Colorado. It was great. We became fast friends, and they all mentioned collectively, 'Gosh, you should do a Big Finish'. I was aware of it, but I hadn't heard any episodes.

Were you aware of Doctor Who?
Oh, very much so. Oh yeah. Of course! I had seen quite a bit of it! I really loved the range of stories in Doctor Who. There's such a whimsicality, and a lot of richness in the stories. And fifty years of that… everyone in science fiction knows about it and respects it greatly!
I first became aware of Doctor Who a couple of years ago when I was doing a British convention – unfortunately, I did not grow up on the series like a lot of Americans actually did. I grew up mostly in El Paso, and we didn't really have science fiction there. It's not a very culturally-orientated city. But I've had a wonderful introduction to science fiction, and Doctor Who, even Star Trek, through being around it.

So how did you go from friends saying 'You should do a Big Finish!' to actually doing it? Did you just knock on the studio door and say 'Hi, I act!'?
[laughs] Yeah. 'I act!' No, Frazer called [line producer] David Richardson, and David emailed me and said, 'We'd love for you to do this, are you coming over any time soon?' and as it happened I was doing a convention in Peterborough, and so David picked out a role that was recording around that time. I did Night of the Stormcrow first, with Tom Baker and Louise Jameson, and they are just wonderful. The chemistry!

What did you make of Tom? I think he takes great joy in fulfilling people's expectations of him as this whimsical eccentric, blurring the line between him and his characters, but presumably you came to him without those expectations…
Right, I do come without those preconceptions. I think he is definitely a national treasure! As is Sylvester McCoy. In such different ways, I think.
Tom is, from what I could see in one day of working with each of them, a little more difficult to pin down. He's definitely more mysterious. It would be very difficult for him to have a role for that long and to be expected to fill certain shoes and not show that right off the bat. That is what I think a lot of Star Trek captains do, for instance; I mean, they are in that realm for a reason, and they fill those shoes beautifully.

What about Louise?
She was so delightful. I had read quite a bit on her, actually – on both of them – but I had read about her work with different charities and her standing up for causes, and she carries that with her into a room. She has that wonderful warm, almost maternal, awareness about things. She wears that in who she is.

You don't have to work at a bond with her, do you – it's so easy and instant.
No, no. Naturally warm and naturally open, which is actually, I think, fairly rare to find that in that level on someone who started as a sex symbol. I mean, my God, she was, and still is, absolutely stunning!

I like that you did so much research!
Oh yeah. No, no, I didn't have to, I know of these things!
The research that I did do before Big Finish is that I downloaded every single Doctor Who Big Finish that Tom Baker and Louise did. Every single one of them. And I was really enthused to hear the production value. They really make a rich, full world with these audios. The sound effects and the pace and the music, it all really adds up to create a very attention-grabbing, compelling piece of work.

How much experience did you have of audio drama, either as an actor performing in one or as a listener? My understanding is that the medium's died out a bit more in the US than it has here…
I hadn't had a lot of experience of it before, I'll be honest. I'd done some voiceover – I did Robotech: The Shadow Chronicles, playing the role of Janice, which was another really wonderful foray into a well-loved property – but in terms of audio plays, I really hadn't.
I love that this is catching on to the extent that it is, that audio plays are coming back. We all spend so much time commuting that I can see why people would want to download this and take it with them, and escape into the wonderful worlds of Doctor Who while they spend an hour on the train.

What was the experience of recording them like, just from a practical perspective? If you're doing a voiceover for a game it's usually just you on your own, whereas at Big Finish you had a whole cast of other actors to bounce off.
Honestly, it was so easy. It was wonderful chemistry. It was like falling off a log. We finished early. We sometimes didn't even have to do a second take, because these are fine actors. I can see how Nick [Briggs, director and executive producer] is a perfectionist – we always did it until we got it right – but sometimes it was just pure chemistry, really easy. That comes with David and Nick casting a bunch of talented actors – it was a great cast.
Nick has got a really sharp ear too, because there are some things that I wouldn't have caught and he said, 'Nope, we need to do that again'. I really respected that. A lot of directors I find have an eye and an ear for technicality – how to line up the shot, or how to make the explosions happen, or what angle to take on the camera – but they're not necessarily able to hit the emotional highs and lows, and walk with an actor through those things to get the inner light as rich as it can be. And I found that Big Finish are certainly really strong, and Nick – and Ken Bentley, who directed The Shadow Heart – were really able to refine our performances whenever necessary. I really appreciated that as an actor.

Let's talk about Sylvester. Did he share any of his showbiz stories?
Oh jeez! There were fun things he was sharing about The Hobbit – confidentially, mind you. He is so fun. He's really an actor that doesn't bring any ego to the table. He's truly humble. He's truly a human being first.

He's very sweet. The first time I met him at Big Finish I accidentally kicked him quite hard in the leg and he didn't mind at all.
He's just lovely. You don't always find that, quite frankly. Some of the actors I've been around…

…Protest when you kick them in the leg?
Protest when I kick them in the leg, yes. How dare they! I think that's the litmus test. I should bring you with me so that you can kick each of them in the leg and see. Can I use you in that way?

Sure.
Thank you. I will ask for that to be in my contract next time. You can be the guinea pig. Anyway, I find too often that actors who have played certain roles of status cannot really remember that humility is one of the most important parts of life, and Sylvester has that in the most beautiful way. I just adored that man. Also, I was watching some Patrick Troughton episodes this weekend…

Wow, you weren't lying about the research thing.
Oh yeah. The research is fun! He's got such a wonderful face anyway, and sensibility. And the acting was so natural for way back then, and the camera is also really good, and the direction. The show doesn't comment on itself, it really has a lot of respect for its audience. I really enjoyed watching those older episodes – I hope they find more of them.