20. The Last Beacon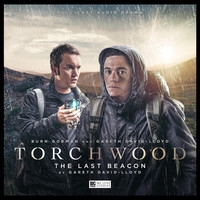 Released April


Prices
| | |
| --- | --- |
| CD | US $13.15 |
| Download | US $7.99 |

Synopsis
This title was released in April 2018. It will be exclusively available to buy from the BF website until June 30th 2018, and on general sale after this date.
10/10 "It's just from start to finish a powerful combination. Gorman and David-Lloyd's acting, the writing by David-Lloyd and direction rounding it off nicely by Scott Handcock. The entire supporting cast is amazing too. I look forward to hopefully many more scripts from Gareth David-Lloyd soon, keeping up the best traditions of Torchwood." Indie Mac User
"The Last Beacon a great little comic tale, with plenty of Welsh flavour and a terrific banter between Burn Gorman's Owen Harper and Gareth David-Lloyd's Ianto Jones. The script balances the line between laugh out loud comedy and mystery well but it is the character moments that really shine, and for me, this is Owen's best Torchwood story by a mile." The Digital Fix
"The Last Beacon is atmospheric and funny, crude and very, very Welsh and might be one of the best releases I have listened to so far this year… I might even go as far as to say this is the best Owen Harper story in audio or television" The Digital Fix
"Under Scott Handcock's direction the script comes to life, oozing character and the end result is (yet) another strong story and a great advert for the quality of the range." Red Rocket Rising
"The Last Beacon is a great writing debut from Ianto Jones himself, Gareth David-Lloyd. There are many dark episodes of Torchwood, but this story is something different. It's very light in tone, and very funny. But it's also great at character exploration, which is what all the best Torchwood stories excel at." Doctor Who Watch
"Superbly written and performed, the most Welsh Torchwood ever!" TinDogPodcast
"The Last Beacon is a story that knows it has to deliver an alien mystery, and does, but in which the story is rather subservient to the pleasure of the character-based laughter it rips out of you, and the ultimately slightly sentimental smile it leaves on your lips." Massmovement
"Ianto and Owen fans will be more than pleased to tag along for this hike...this has a lot of heart and will no doubt rest well with fans. This current run of Torchwood stories is off to a great start!" Blogtor Who
A signal in a Welsh mountain is calling an ancient battlefleet to Earth. Owen Harper and Ianto Jones head up into the Brecons to stop it.
The problem is - Ianto really loves camping.
Torchwood contains adult material and may not be suitable for younger listeners
Written By: Gareth David-Lloyd
Directed By: Scott Handcock
Cast
Burn Gorman (Owen Harper), Gareth David-Lloyd (Ianto Jones), Ellie Darvill (Pat), Daniel Hawksford (Bryn), Rick Yale (Bashy), Luke Williams (Brogan), Charlotte O'Leary (Kerys), Kristy Philips (Jemma), Laura Dalgleish (Receptionist), Richard Elfyn (Ryan), Marilyn Le Conte (Ianto's Nan). Other parts played by members of the cast.
Producer James Goss
Script Editor David Llewellyn
Executive Producers Jason Haigh-Ellery and Nicholas Briggs