90. Year of the Pig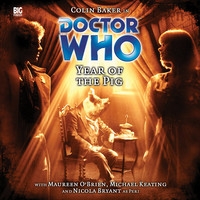 Released December 2006


Prices
CD
US $8.02
Download
US $2.99

Web Special Price!



Synopsis
Ostend, 1913. War is coming. A war in which millions will die. And the guest in suite 139 of the Hotel Palace Thermae knows it. Which is odd, considering he has trotters, a snout and a lovely curly tail.
Toby the Sapient Pig is a swine on the run. Two peculiar strangers have been hunting him across Europe. The first, Miss Alice Bultitude, is an Englishwoman and collector of obscure theatrical ephemera. The second, Inspector Alphonse Chardalot, is a celebrated member of the detective police - the man who brought the trunk murderess of St Germain to justice.
This was supposed to be a reading week for the Doctor and Peri. Now they must do battle with a villain who wants to wipe every last human from the face of the earth - once he's had just another dish of truffles. And maybe a valedictory glass of fizzy lemonade.
Doctor Who range subscribers whose subscription includes this title will receive the complete Doctor Who audio drama Return of the Daleks absolutely free.
The adventure is written by Nicholas Briggs and stars Sylvester McCoy as the Seventh Doctor with Gareth Thomas as Kalendorf and Nicholas Briggs as the voice of the Daleks. Return of the Daleks is also available to buy separately.
Written By: Matthew Sweet
Directed By: Gary Russell
Cast
Colin Baker (The Doctor), Nicola Bryant (Peri), Adjoa Andoh (Nurse Albertine), Paul Brooke (Toby the Sapient Pig), Michael Keating (Inspector Chardalot), Maureen O'Brien (Miss Alice Bultitude)