We love StoriesBig Finish produce great full-cast audio drama for CD and download, featuring many popular television fantasy series.
The Fourth Doctor at Big Finish (part 5)
29 October 2019
The fifth season of Big Finish adventures for Tom Baker saw a new partnership on audio - the Doctor, Romana in her second incarnation, and K9.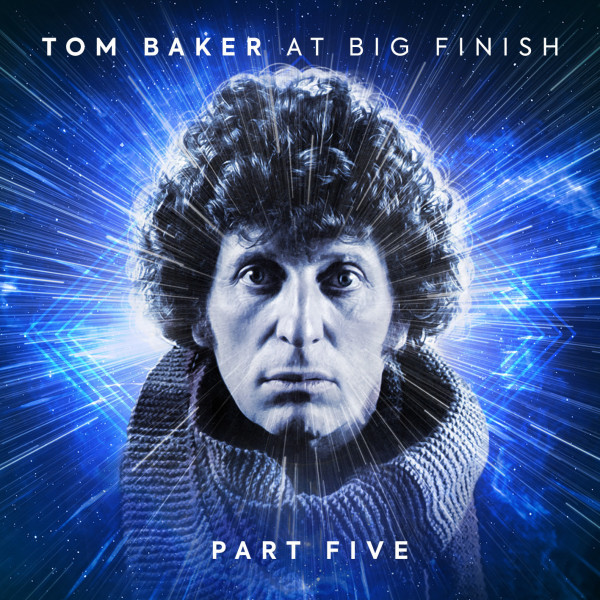 The trio returned to the days of season 17 for eight new adventures, but faced an old foe at the season's climax - the return of David Warner as Cuthbert. Kenny Smith guides us through the stories:
Wave of Destruction, by Justin Richards
A modulated frequency wave cancellation signal isn't something that the Doctor, Romana and K9 expect to detect in 1960s London. As MI5 investigate a mystery, which involves pirate radio on a ship off the coast of Britain, which old enemy will the Doctor find waiting to wave to him?
Justin Richards: "I've always enjoyed the combination of the Fourth Doctor, the Second Romana and K-9 – the three of them are always a joy to watch. So it was a real privilege to get to write for them, I had immense fun doing it."
The Labyrinth of Buda Castle, by Eddie Robson
The Doctor and Romana land in Budapest, intent on enjoying another holiday, but are too late to save a man who has seemingly been attacked by a vampire. Aided by a vampire hunter who is searching for Dracula, the friends investigate a series of recent attacks.
Eddie Robson: "David Richardson suggested I might like to do something set in Europe – and Budapest was his idea.I looked around for things in Budapest that might inspire it. I found a Wikipedia article titled 'The Labyrinth of Buda Castle', and I sent it to David saying 'Look, this place comes with a Doctor Who story title attached'."
The Paradox Planet, by Jonathan Morris
The TARDIS is struck by an advanced war machine - a Time Tank. Losing Romana, the Doctor and K9 pursue the Tank to Aoris, a world quite literally at war with itself, with the future waging war on the past, and vice versa. Trapped at opposite ends of a temporal war, the Time Lords have two time zones to save.
Jonathan Morris: "I came up with my own brief for myself, which was this: to write the sort of story Douglas Adams would write if he was still around. Which I don't think would be a comedy, perhaps surprisingly. I think if he was around he'd write something which was about the world today, about the fact that we're destroying our planet, squandering its natural resources and making species extinct."
Legacy of Death, by Jonathan Morris
With both sides of the war on Aoris now capable of time travel, the conflict is about to enter a deadly stage. combat, the endgame is approaching. The people of Aoris risk extinction at their own hand - can the Doctor, Romana and K9 save the same planet twice in the same day?
Jonathan Morris: "I felt a responsibility, not only to live up to this incredible inventive era but also to give Tom and Lalla the best possible material, stuff with a real dramatic edge. And because the Doctor and Romana are equals, they're two protagonists, so you basically have to give them a story each!"
Gallery of Ghouls, by Alan Barnes
When the TARDIS lands in Brighton the Doctor and Romana have the chance to spend some time at the seaside. But with it being too early for the opening of the Pavilion, they have to look elsewhere for their entertainment - what is the sinister secret of Goole's Gallery?
Alan Barnes: "I started out thinking about doing a story set in Madame Tussaud's. But... when I started researching the historical Tussaud, I became fascinated by her origins and her connections to the French Revolution, not to mention the whole murky world of the touring wax exposition in the early-mid nineteenth century."
The Trouble With Drax, by John Dorney
Wheeler-dealer Cockney Time Lord Drax has found a map that leads to Altrazar, the temporal Atlantis, a place lost to time. Believed by many to be a myth, it has long been the perfect location for the rich and powerful to hide away their most dangerous secrets. The Doctor, Romana and K9 are forced to help their old ally.
John Dorney: "If you've got an old character, a monster or a villain, the aim you've always got in mind is to write the definitive story for them - I wanted to do a story that could only have been with Drax, and not with another character like, say, Sabalom Glitz."
The Pursuit of History, by Nicholas Briggs
On a brisk winter's morning in 1850s Yorkshire, Cuthbert, head of the Conglomerate, prepares to hijack a very special train. But there is a problem with the Quantum Gateway. In the TARDIS, the Doctor, Romana and K9 detect strange distortions in the Vortex, an energy stream coming from a strange creature called a Laan.
Nicholas Briggs: "We always had it in mind to bring Cuthbert back, because there was so much about him left unexplained. It's a grand old game of cat and mouse between the Doctor and Cuthbert, through time and space."
Casualties of Time, by Nicholas Briggs
A trap has been laid across time and the TARDIS crew have no possible means of escape. The Doctor is finally getting the chance to see the Conglomerate's work at first hand. Romana is working to save the alien Laan once and for all. K9 is returning to Ancient Britain in search of an unusual power source. How will they escape?
Nicholas Briggs: "I love beginnings and endings, so coming up with grand finales is one of my favourite things. I'm happy to keep doing this. I love that momentous feeling of everything coming together, when the stakes are high and the chips are down."
All the Fourth Doctor Adventures series 05 titles, starring Tom Baker, Lalla Ward and John Leeson, are available on collector's edition CD or download, via the links above, or as a discounted complete series bundle.
SALE! Get 40% OFF all these Fourth Doctor adventures. Use checkout code OCTOMBAKER to apply the discount.
Collector's edition CDs and download bundles for The Fourth Doctor Adventures Series 1-6 now also have a 40% discount applied for the period of the offer (no code required). This deal expires 23:59 (UK time) on October 31st 2019.