28. Invaders from Mars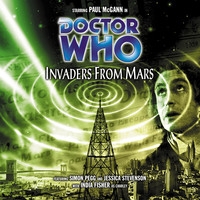 Released January 2002


Prices
Download
US $2.99

Web Special Price!



Behind the Scenes
This story takes place after the 1996 TV Movie, and after the Big Finish audio adventure .
Mark Benton also features in the Fourth Doctor adventure Energy of the Daleks.
Simon Pegg also features in Big Finish's 2000AD range as Johnny Alpha in Strontium Dog.
David Benson features as Panda in the Iris Wildthyme adventures.
Mark Gatiss also features in Sapphire and Steel and Judge Dredd.